4 Road Trips in Mexico Not To Miss!
Who doesn't love a good road trip? Ok, I admit when I was younger road trips meant being squished between my two older siblings vying for elbow room and counting down the minutes until we got there. Now, however, road trips mean freedom. The freedom to do what I want and when I want it. To go to unchartered territories, remote and desolate beaches, or rugged mountain tops where few others venture to go. And road trips in Mexico offer just that.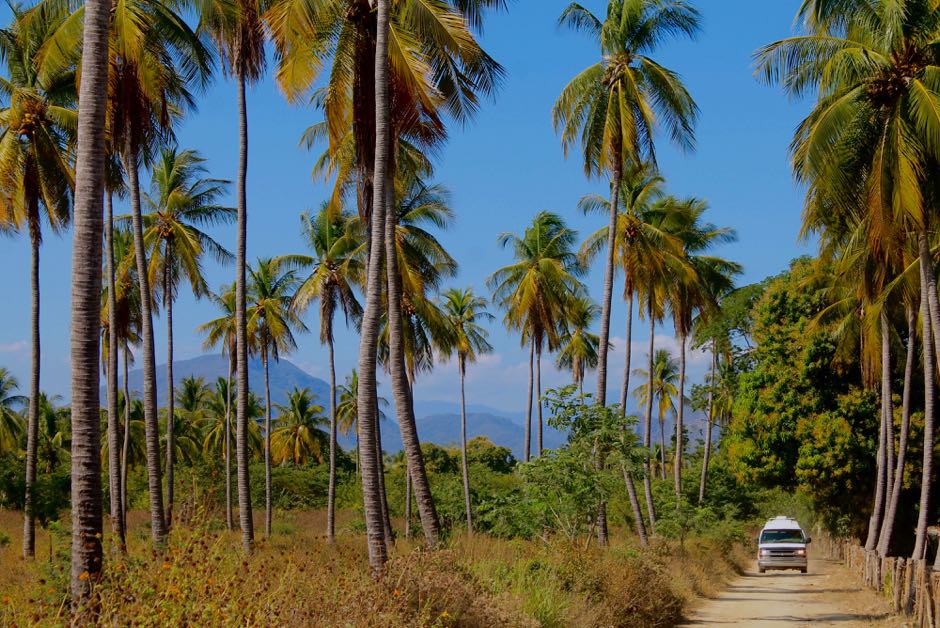 Before we set off for Mexico, I thought Mexico was only going to be about three things…tacos, tequila and beaches. And while these three things exist in abundance there are plenty of other things to do and places to see on a road trip throughout Mexico.
Luckily for you, we have done most of the legwork. We have traveled the open roads, sunbathed at the best beaches, tasted countless tacos and sampled all the cerveza. We have put together what we think are four of the best road trips in Mexico each catering to something unique. Whether you want to explore the wild jungle of Chiapas, the diversity of the state of Oaxaca, the Jalisco beaches, or the food and arts scene of Central Mexico, there is something for everyone.
So what are you waiting for? Let's get to road tripping!
1. Chase Waterfalls and Ruins in Chiapas
Few people have ever heard of Chiapas, the small state next to the Guatemala border. If you have heard you of it, you probably know that this luscious jungle state is full of amazing waterfalls and ancient ruins. The remoteness of the state means that fewer tourists descend on the attractions each year. This also means less commercialization when compared to some of its neighboring states. The Chiapas road trip in Mexico is the most remote of them all and will really get you off the beaten path a bit.
What You'll See in Chiapas
A road trip through Chiapas will undoubtedly start in Tuxtla Gutiérrez, the state's capital. Even from this sprawling metropolis, you can start your grand outdoor adventure as the backdrop of Tuxtla is none other than the Sumidero Canyon. This impressive canyon is only the beginning of nature's wonders on this nature lover's adventure as the next stop is the magnificent El Chiflon.
This might waterfalls stands at 120 meters tall and flows with the most stunning blue water I have ever seen. And this is only the beginning of impressive bodies of waters. On this road trip in Chiapas, you still have yet to see the Lagos de Montebello, Lagos de Colon, Las Nubes, Agua Azul, the list continues! So many stunning bodies of water in such a small state all surrounded by the wild jungle.
And let's not forget the amazing ruins that you will visit on a road trip in Chiapas. The most famed and visited is Palenque but Yaxchilán and Bonampak give Palenque a run for its money. As you can imagine all of the ruins in Chiapas are set against the most stunning backdrop of the Chiapas jungle which is unique when compared to other well known Mexican ruins such as Teotihuacan in Central Mexico.
I've only given you a sneak peak as to what a road trip in Chiapas would entail. If these things even only slightly interest you, you can read the full itinerary to find out all the other great things to see and do in Chiapas.
2. Explore the Diversity of Oaxaca
The state of Oaxaca was one of our favorite places to explore during all of our road trips in Mexico. Whether it be the rugged coastline of Oaxaca or the arts and food scene of its state capital or the warmth of the local rural mountain towns, Oaxaca kept surprising us. We spent over two months exploring this amazing state. While we may not be experts, we think we know just enough to ensure your road trip, holiday, or whatever it may be will be amazing.
What You'll See in Oaxaca
Start your Oaxacan adventure in the food and arts scene of the city of Oaxaca. This small but diverse city is one of our favorite destinations in all of Mexico. Visit a local gallery, dine at one of their many delicious restaurants and drink mezcal all night long! All before you have even really scratched the surface of what Oaxaca has to offer. And don't forget about one of the many ancient ruins nearby to the city of Oaxaca. Consider visiting one to learn about the indigenous people to the state of Oaxaca.
After the city of Oaxaca, head out to one of the local communities for some nature exploration. Santiago Apoala and Pueblos Mancomunados are ecotourism communities that are a glimpse into what it is like to live in rural Oaxaca. This is also a great way to get active on holiday as there are many hiking trails to explore the natural landscapes of Oaxaca.
Next, it is time to hit the coast and visit some of Mexico's best beaches. The beaches of Oaxaca are just as diverse as the state itself. Whether you want to visit the remote, desolate white sand beaches of Playa San Diego or if you want to be in the thick of things at Playa Zicatela in Puerto Escondido or if you prefer a laid-back setting with all of your creature comforts like Mazunte and Zipolite, Oaxaca has it all.
If we have told you enough to pique your interest, then you are in luck! There are so many more amazing places to visit, beaches to explore and things to do in Oaxaca. To find out more check out our one-month itinerary and start planning your Oaxaca road trip today!
3. Discover Tequila and Beaches in Jalisco
The state of Jalisco is located on the north Pacific coastline of mainland Mexico. It is home to the second-largest metropolis in Mexico, Mexico's largest export, tequila, and some of the most stunning beaches in all of Mexico. Our time in Jalisco was our first glimpse at how great the beaches of Mexico really were. It is where we celebrated our birthdays (for Eddie the BIG 3-0). Where we fell in love with the Pacifico beer. And where we ate some of the best tacos in all of Mexico! Jalisco is truly a special place, and I am sure you will love every minute of your Mexican road trip here!
What You'll See in Jalisco
A road trip in Jalisco starts in none other than the capital of Guadalajara where the old world meets the new world. Next, you will venture out to Ajijic, the next retiree haven after San Miguel de Allende. On the shores of Lake Chapala, Ajijic is the place to get some hiking in before heading off to Tequila!
Tequila, the birthplace of Mexico's most famous export, is a charming colonial town just an hour outside of Guadalajara. Stop here to taste this famed beverage in its place of origin. You may also want to pick up a few bottles of tequila before heading to the beach for relaxation.
Once at the beach it is all relaxation, surfing, eating, and drinking. What else could you want out of a beach holiday? The Jalisco beaches are beautiful and you won't want to end your holiday any time soon once you finally get to sink your toes into the soft white sand of San Pancho or grab a Pacifico from one of the beach bars lining Sayulita.
So what do you say? Does a Jalisco road trip sound interesting to you?
4. A Foodie's Dream from Mexico City to San Miguel de Allende
The road trip from Mexico City to San Miguel de Allende centers around the food, culture, and arts scene prominent in the Mexican culture. My family joined us during our time in Mexico City, and so we splurged a bit on food. Trust us, after your road trip in Mexico from Mexico City to San Miguel de Allende, you will be carrying a few extra pounds back home. Is it worth it? Absolutely. My only regret is that we didn't have more time to explore the wonderful culinary and arts scene throughout Central Mexico.
What You'll See from Mexico City to San Miguel de Allende
It all starts in Mexico City. Mexico City is home to some of Mexico's finest restaurants, tantalizing taco stands, and eclectic bars and cafes. If you love traveling for food then you will be in heaven upon arrival in Mexico City. We recommend you spend your time eating your way through Mexico City. And, if you have time, consider visiting some of Mexico's most famed attractions such as the Frida Khalo Museum or the Bosque de Chapultepec before making your way to Teotihuacan on one of the best road trips in Mexico.
Teotihuacan is Mexico's most famed and visited ruins located just an hour outside of Mexico City. Visit the Pyramid of the Sun and walk down the Avenue of the Dead. Just remember to bring plenty of water as the Mexican sun can be a bit relentless.
After walking around the ruins of Teotihuacan, I imagine you'll be a bit thirsty. If so, your next stop should be Mexico's second-largest wine-producing region just outside of Querétaro. From Tequisquiapan, embark on the Querétaro wine and cheese route. Sample local wines and cheeses as you continue your way on your foodie adventure on this Mexico road trip.
From here make your way to the charming town of Bernal, home to Mexico's largest monolith. You might be wandering what a monolith is, but trust me you are not alone. A monolith is a solid stone and you cannot miss it upon arrival in Bernal. Spend a night drinking cervezas on a terrace, eating yummy gorditas and marveling at the granduer of the rock.
Next you will make a quick pit stop in Querétaro before your final decent into San Miguel de Allende. Descending into this charming town in central Mexico is like entering a fairy tale. The cobbled stone streets, colorful painted houses and stunningly beautiful cathedral all give the feeling of a dream.
The main reason to visit San Miguel de Allende outside of being a picturesque town is to indulge in the delectable food scene that has emerged due to the influx of international tourists and the snowbird retirees. Even if you are not a retiree and are on a bit of a budget, there are plenty of places to enjoy.
San Miguel de Allende is the perfect place to end your road trip through Central Mexico!
With these four road trips in Mexico you are sure to find the perfect Mexico holiday! Enjoy Mexico and when in doubt… drink tequila!
Love it? Pin It!