17 of the Best Things to Do in San Cristobal de las Casas
Please note that some links on our site are affiliate links. If you choose to purchase through these links, we may receive a small commission at no extra cost to you. By using these you are directly supporting The Vanabond Tales to remain an independent travel blog.
Chiapas' mountain town of San Cristobal de las Casas is a lesser-known gem on the tourist circuit of Southern Mexico. With a fraction of the visitors that San Miguel de Allende or Oaxaca City receives, this charming town has lots to offer and fewer people to share it with.
Whether your vice is dining out, exploring the colonial old town, partying until the sun comes up, or disappearing into the surrounding nature, San Cristobal has something for everyone. Discover exactly what to do in San Cristobal de las Casas with our ultimate city guide.
The Best things to Do in San Cristobal de las Casas
While the main draw to San Cristobal for us was the rising culinary scene and the nearby natural wonders, there are plenty of things to do in San Cristobal between meals.
Wander the Cobblestone Streets
While this may be obvious, San Cristobal has some of the beautiful cobblestone streets in Mexico, and, some of the liveliest.
San Cristobal boasts two main walking streets, the Real de Guadalupe and Miguel Hildago, both lined with colorful restaurants, bars, boutique stores, art galleries, and more. Take some time to get lost in the maze of pretty colonial streets, you never know what you might find!
Take a Hike to the Guadalupe Church
A broad avenue leads to the beautiful white and gold steps that ascend to the top of Cerro de Guadalupe. Atop the hill, you'll get fantastic views of San Cristobal and of course, you'll find the beautiful Iglesia del Cerro de Guadalupe. The beautiful and historic church was built in 1834, inside, the well-preserved art and carvings also date back to the first half of the nineteenth century.
Hours of Operation: Daily 9:00 am – 13:30 and 16:00 – 20:00
Sample Local Coffee at Carajillo Expendio
Located on the Real de Guadalupe, Carajillo Expendio is easily one of the best cafes in San Cristobal de las Casas. Primarily a grab-and-go joint, this cafe sources beans locally from farmers throughout Chiapas.
These guys are serious about their coffee, and it shows in the quality of their product. Stop in for a to-go coffee or snag one of the few chairs out front for some prime people-watching real estate.
Hours of Operation: Daily 10:00 am – 10:00 pm
READ MORE: The 6 Best Cafes in San Cristobal de las Casas.
Casa de la Cultura
Previously a women's convent, the Casa de la Cultura now is a cultural center offering art exhibits, classes and workshops, and other cultural events. If you have some free time, stop by to see what is going on in the city.
Hours of Operation: Monday – Friday: 9:00 am – 2:00 pm and 4:00 pm – 8:00 pm
Visit the Cathedral of San Cristobal
San Cristobal, like most Mexican cities, is centered around a city cathedral. The Cathedral of San Cristobal is located at Plaza de la Paz. Visit the cathedral at dusk to watch the colors of the setting sun reflect against the yellow facade or visit the inside of the cathedral between the hours of 9:00 to 13:30 and 16:30 to 20:00.
Hours of Operation: Daily: 9:00 – 13:30 and 16:30 – 20:00
Price: Free
Visit the Local Markets
One of the best ways to soak up the local culture of a city is by visiting the local markets, and San Cristobal has plenty of fantastic local markets to explore.
Tianguis Artesanal in Plaza Santo Domingo
Outside of the beautiful Santo Domingo church, a small handicraft bazaar takes place daily. Locally made, indigenous, artisanal crafts including, textiles, clothing, jewelry, leather goods, pottery, and much more are on display, making it the perfect place to find an authentic souvenir.
Mercado de Dulces y Artesanal
This bustling market of sweets and artisan goods is another place to find authentic handcrafted goods from around Chiapas. You can also find traditional regional sweets and candies including yuca root and pumpkin candy.
Hours of Operation: Daily: 8:30 – 21:30
Mercado Muncipal de San Cristóbal de las Casa
The central city market is where the locals come for groceries and fresh produce. The authentic market is a great place to observe day to day life of San Cristobal. It's also a great place to pick up local fresh produce and to try some regional specialties from the small restaurants and food stalls.
Hours of Operation: Daily: 8:00 – 18:00
Experience the Cuisine of San Cristobal de las Casas
One of the best things to do in San Cristobal de las Casas is to experience the wide range of cuisine offered in this small mountain town. Sometimes overshadowed by tourist hotspots like San Miguel de Allende or Oaxaca City, San Cristobal's food scene is beginning to turn heads.
From local fare to international flavors San Cristobal We have included a few of our favorite restaurants in San Cristobal de las Casas to help get you started.
Breakfast | Frontera Artisan Food and Coffee
Start your morning off right with breakfast and coffee at Frontera Artisan Food and Coffee just a short walk from the city center. The breakfast options range from classic Mexican fare like chilaquiles to Western staples like bagel and lox sandwiches. The coffee is sourced locally from farmers in Chiapas and is prepared any way you like from V60 to Aeropress and more.
Hours of Operation:

Monday – Saturday: 8:00 – 21:00 pm
Sunday: 8:00 – 18:00
Lunch | Anchoite Cochinita Pibil
This tiny restaurant serves only one thing…pork. Specifically cochinita pibil, a marinated, slow-roasted pork hailing from the Yucatan Peninsula. While there's only one type of meat on the menu, you can have it served in a variety of ways, tacos, toastadas, torditas, or gringas.
Don't be deterred if there is a line out front. With such a simple and delicious menu, the service is quick, and the wait is worth it.
Hours of Operation: Daily: 8:30- 23:00
Dinner | Cardamomo Cocina Hindu
San Cristobal de las Casas is overflowing with international dining options specifically those with an Asian flair. Whether you are craving Korean, Japanese, Thai, or Indian there is something for everyone.
Our favorite? Cardamomo Cocina Hindu. You immediately know you are in for a treat upon the greeting of spices wafting through the door. While the options are limited unlike most Indian restaurants, the quality and taste are sublime.
Cardamomo also features a shortlist of unique cocktails with a particular focus on gin-based drinks. The perfect pairing for what is sure to be one of your best meals in San Cristobal.
Hours of Operation: Daily: 14:00 – 22:00
READ MORE: The Best Restaurants in San Cristobal de las Casas
Learn About the History and Culture of San Cristobal on a Free Walking Tour
Free walking tours are the best way to learn about the history and culture of a city and this is no exception in San Cristobal de las Casas. Free Walking Tour San Cristobal offers an English-speaking tour twice daily and a Spanish tour once a day.
The tour guides you through the historic city center as well as to a few off-the-beaten-path destinations. You even have the opportunity to sample some of the local produce like coffee as part of the tour.
Drop in the Kinoki Cultural Centre, Cinema, Restaurant and Bar
Take in all San Cristobal de las Casas has to offer with views over the beautiful city from Kinoki's roof top bar.
But that's not all that's on offer her, with a movie theatre screening documentaries twice daily, an art gallery, a restaurant, and a roof-top bar, Kinoki is a cultural and arts hub for residents and tourists.
Whether you drop in to catch a local film on a rainy day or take in the sunset from the rooftop bar, make sure you visit Kinoki.
Hours of Operation: Daily: 12:30 – 00:00
Take a Cooking Class with Steps
Steps is an NGO dedicated to the preservation of indigenous culture.
Their mission is to protect indigenous culture by sharing it.
One way Steps shares the region's indigenous culture is through their cooking classes.
For a unique, delicious, and educational experience in San Cristobal, drop into steps.
Address: Calle Ejercito Nacional #19A 29200 San Cristóbal de Las Casas, Chiapas
Cooking Class Times: Monday – Friday: 11:00 and 17:00
Enjoy a Glass of Wine with Friends at the Popular La Vina de Bacco
Easily one of the best things to do in San Cristobal de las Casas is grabbing a table at La Vina de Bacco, but scoring one may not be easy. This Spanish tapas bar is extremely popular with locals and tourists alike so finding a seat at the table may prove difficult.
Once you step inside La Vina de Bacco it's easy to forget you are in Mexico. The bar and atmosphere exude a southern European vibe.
La Vina de Bacco showcases both local and international wine with a wide range of prices to accommodate all budgets. And if your are feeling a little peckish, you will be pleasantly surprised that each glass comes with a free tapa.
A great place to start off the night, arriving early will ensure a spot on the patio to watch the evening roll by in this charming colonial town.
Hours of Operation: Daily: 13:00 – 00:30
Enjoy the Museums and Galleries
There are more than 20 Museums in the small town of San Cristobal, so you are sure to find one that suits your interests. Some of the most interesting museums include;
Centro de Textiles del Mundo Maya
This colorful museum showcases traditional indigenous weaving. It provides insight into traditional textile production and the history that surrounds it.
Hours of Operation:

Thursday – Sunday : 10:00 – 15:00
Asociación Cultural Na Bolom
This cultural center is located in the former home of archeologist Frans Blom and photographer Trudi Blom. The Bloms research and work focused on the Maya civilization. They used their home as a research center and museum, opening it to guests to help fund their activities.
Today the house still operates as a research center, museum, and hotel. Under the administration of the Asociación Cultural Na Bolom, projects are focused on preserving history and the environment.
Arteria Chiapas
This small contemporary art gallery features local and regional Mexican artists producing modern and authentic works. More than a place to buy art, the busy artist hub is a haunt for the local art community.
Check Out the Live Music Scene ar Café Bar Revlución
Café Bar Revolución is a hot spot for both tourists and locals alike. A two-level bar located near the center of town, this place is always heaving with people looking to have a good time.
Local beer, craft beer, mezcal, cocktails, Café Bar Revolución has it all. It is also a great place to catch live music.
Hours of Operation:

Sunday – Monday: 10:45 am – 2:00 am
Tuesday – Thursday: 10:45 am – 3:00 am
Friday – Saturday: 10:45 am – 4:00 am
Treat Yourself to a Delicious Pastry at Oh La La! Real Patisserie Guadalupe
If you want to satisfy your sweet tooth and your coffee cravings, head over to Oh La La! Real Patisserie Guadalupe. As the name suggests, it is a French-inspired cafe. Located on the main walking street Real de Guadalupe it's a great place to stop for a rest when exploring the city.
While the prices are a bit more than other cafes in San Cristobal de las Casas, their delicious treats and coffees are worth it.
Hours of Operation: 9:00 am – 9:00 pm Monday to Sunday
Best Day Trips and Things to Do Near San Cristobal de las Casas
San Cristobal de las Casas is a great jumping-off point to explore some of the natural wonders of Chiapas. Get out of town and explore the outdoors with one of these incredible day trips from San Cristobal.
Sumidero Canyon and Chiapa de Corzo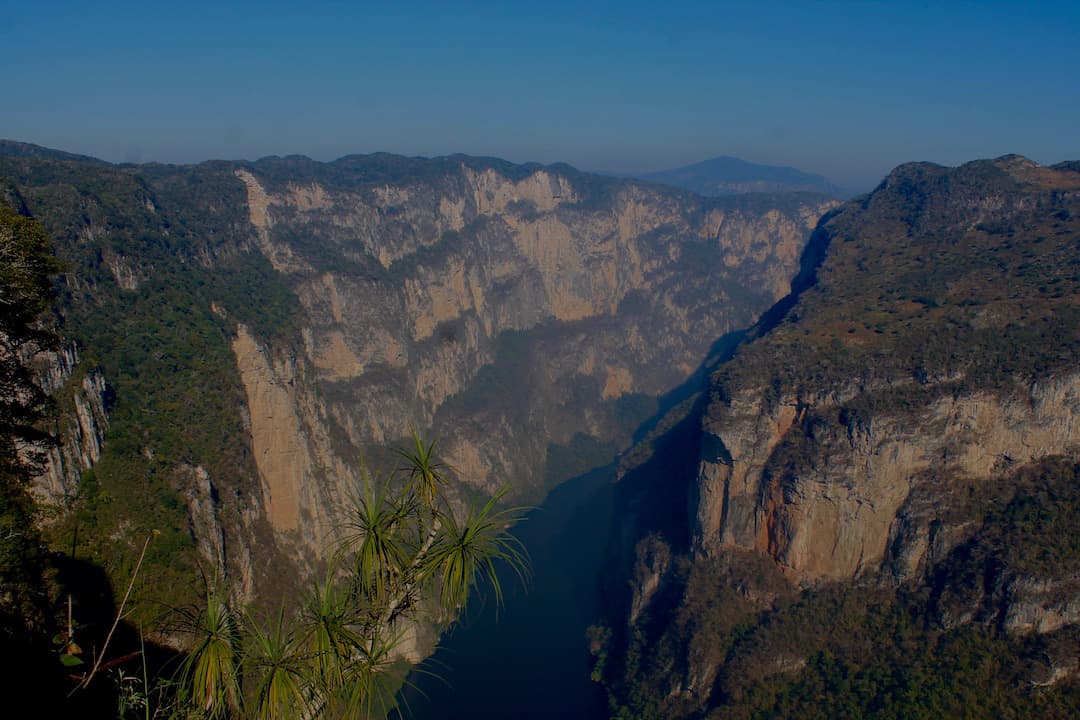 Explore one of Mexico's most charming pueblo magicos, Chiapa de Corzo, and see one of its's most spectacular natural sites, the Sumidero Canyon in one trip.
The town of Chiapa de Corzo is steeped in culture and history which dates back to pre-Colombian civilization and has been a site of significance throughout the ages.
Chiapa de Corzo is also the starting point for boat trips through Sumidero Canyon. As of December 2019, the two-hour boat ride costs $250 pesos. On the trip, you speed through the canyon marveling at its impressive granite walls while trying to spot crocodiles, spider monkeys, and other wildlife that calls the canyon home.
Alternatively, if you are looking to visit the canyon from a different (and cheaper angle, for only $36 pesos per person, you can drive along the top of the canyon to the five miradors overlooking Sumidero Canyon.
Chiapa de Corzo is only one hour from San Cristobal de las Casas and is easily reached by private vehicle or collectivo.
For more on the Sumidero Canyon, Chiapa de Corzo, and Chiapas' state capital, Tuxla Guiterrez check out our article Overlanding Chiapas: What to Do in Tuxla Gutiérrez.
El Chiflón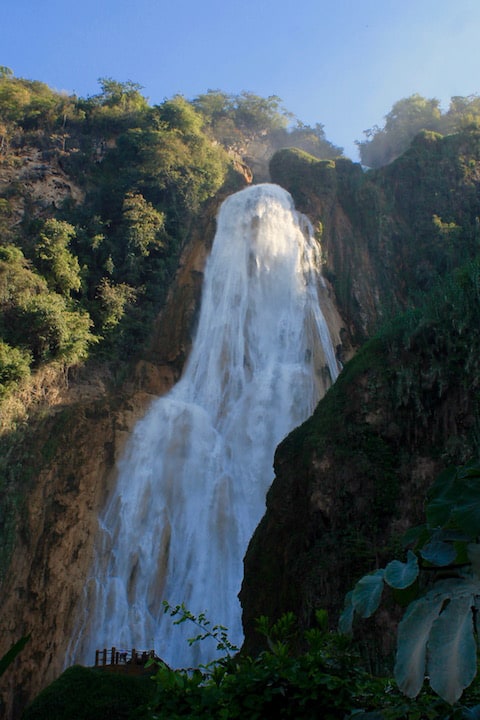 El Chiflón is the most one of the most impressive waterfalls in Chiapas. El Chiflón is series of three waterfalls, El Suspiro (The Sigh), Ala de Ángel (Angel Wing), and Velo de Novia (Bride's Veil) with Velo de Novia reaching a height of 120 meters.
While the waterfalls themselves are truly impressive, the real drawcard here is the unique turquoise blue color of the water. It is so impressive in fact that it doesn't even look real. The San Vincent River stretches from Velo de Novia in the brightest turquoise blue river water you will ever see.
Make sure to bring your swimmers and enjoy a refreshing dip in the water. Swimming is allowed in certain areas along the river.
Cenote Chucumaltik
Cenote Chucumaltik is located just thirty minutes from El Chiflón. Cenotes are natural pits or sinkholes resulting from the collapse of limestone bedrock that exposes groundwater underneath. The most famous cenotes in Mexico are located in the Yucatan Peninsula.
Chucumaltik is a particularly beautiful cenote, cobalt blue water sits amongst lush green forest. Make sure to back your snorkel gear for exploring the underworld of the cenote which is over 60 meters deep in places.
Cenote Chucumalik is open from 7:00 – 17:00 daily. The cost to enter is $30 pesos per person as of January 2019.
Getting to El Chiflón and Cenote Chucumaltik
With Your Own Vehicle
The falls and the cenote are about two and a half hours drive from San Cristobal de las Casas. The roads are in good condition although they are quite windy.
Tour Group
A number of tour operators run day tours to El Chiflón and the Montebello lakes starting from Tuxtla Gutiérrez and from San Cristobal de las Casas. You can see the options and prices here.
Public Transport
To reach El Chiflón on public transport, the most comfortable and straightforward way is to take a bus to Comitan. ADO or OCC run buses between San Cristobal de las Casas and Comitan.
From Comitan you can take a colectivo to the El Chiflón tourist center. The colectivo companies can be found on Hwy 190 between 1a and 2a Calles Sur Poniente. Find one going to El Chiflón. The ride should take about 40 minutes and cost thirty pesos per person.
For more on exploring El Chiflón and other waterfalls in Chiapas check out our article The Best Waterfalls in Chiapas.
How to Get to San Cristobal de las Casas
From Palenque to San Cristobal de las Casas
By Car
The journey from Palenque to San Cristobal de las Casas down the Mexico 199 is long, windy and full of topes. The 215-kilometer journey takes approximately 5 hours due to the road conditions.
Beware throughout this drive, as local communities have capitalized on the increased traffic. Townspeople gather in the middle of pueblos along the road blocking traffic, often using homemade spike strips, designed to puncture your tires. These blockades bar your onward journey unless you pay a toll, referred to as 'co-operacion', to the community.
We have heard of people being charged upwards of 200 pesos, but thankfully we managed to get away with only paying 20 pesos.
If you are making the drive with your own wheels or by rental car, there are many stops that can be made along the way to break up the drive. Check out our article on The Best Waterfalls in Chiapas for some inspiration and side trips to make the most of this road trip.
By Bus
ADO (or OCC) Bus Company offers bus service between Palanque and San Cristobal. Due to the condition of the road the bus takes a different route through Villahermosa making the journey between 8 and 10 hours. Trips depart approximately 8 times per day. To make your booking head to www.ado.com.mx for the most up-to-date schedule and pricing. Prices generally range between $200 – $350 pesos one-way.
By Colectivo
Colectivos, the Mexican version of public transportation, can be taken from Palenque to San Cristobal de las Casas. From Palenque take a colectivo from the corner of 5a Poniente Sur and Benito Juarez to Ocosingo.
In Ocosingo, you will need to change colectivos for the remainder of the journey. Ask someone in Ocosingo for the colectivo terminal to San Cristobal de las Casas as there are many colectivo companies running this leg of the trip. The cost for each ride should be approximately $90 pesos.
From Oaxaca to San Cristobal de las Casas
By Car
The journey from Oaxaca to San Cristobal de las Casas is nine hours down the Mexico 185D to the Mexico 190D. The letter D attached to a road number means tolls, which can rack up quickly, but it also means the road conditions are likely better than most meaning fewer potholes and topes.
By Bus
ADO (or OCC) operates a night bus between Oaxaca and San Cristobal de las Casas. Departing times are 19:00, 20:00, 21:00, and 22:30 and range between 10 to 12 hours. Prices vary between $585 – $900 pesos. To make your booking head to www.ado.com.mx for the most up-to-date schedule and pricing.
Where to Stay in San Cristobal de las Casas
Before you start planning your trip to San Cristobal de las Casas, you need to know where you are going to stay. Whether you are overlanding with your own vehicle or traveling with public transport, there are options for everyone. Here are our recommendations.
Camping and Van Life in San Cristobal de las Casas
While maybe not your first choice for camping, Walmart parking lots are usually a reliable option. Most are open from early in the morning to late in the evening and come with security guards patrolling the area and security cameras. San Cristobal de las Casas is no different. We camped at the Walmart in San Cristobal for several nights over a two-week period and felt safe. From Walmart, you can drive into town or take a colectivo for 7 pesos.
It is also possible to camp on the streets in the town center but be cautious the cobblestone streets of San Cristobal's old town are extremely narrow. If you don't require phone service for work like we do there is a free campsite outside of town on an empty lot next to the Parque Natural el en Cuentro. This camp is quiet, green, natural, and best of all, not a supermarket parking lot.
Hostal Corazon Corteza
Hostal Corazon Corteza is a colorful hostel located a few blocks off the main walking street, Real de Guadalupe. Each of the five rooms is designed with reclaimed wood and locally sourced materials. The hostel has plenty of hanging-out space with a living area inside and a large courtyard. One highlight of the hostel is the beautifully prepared breakfast each morning by the owner Sarah. The downside, only one shower is to be shared throughout the whole hostel. Despite this, we recommend this place for a stay in San Cristobal.
Casa Azabache
A relative newcomer on the scene is Casa Azabache. A trendy, modern hostel delivering premium accommodation without the hefty price tag. The rooms and the hostel itself are beautifully decorated.
The downside to Casa Azabache is the restriction on the usage of the kitchen. If you like to cook your own breakfast, you may want to rethink your stay as the kitchen is only available for use starting at 10:30 each morning. Other than this, Casa Azabache is a great place for exploring the town of San Cristobal.
Hotel Sombra del Agua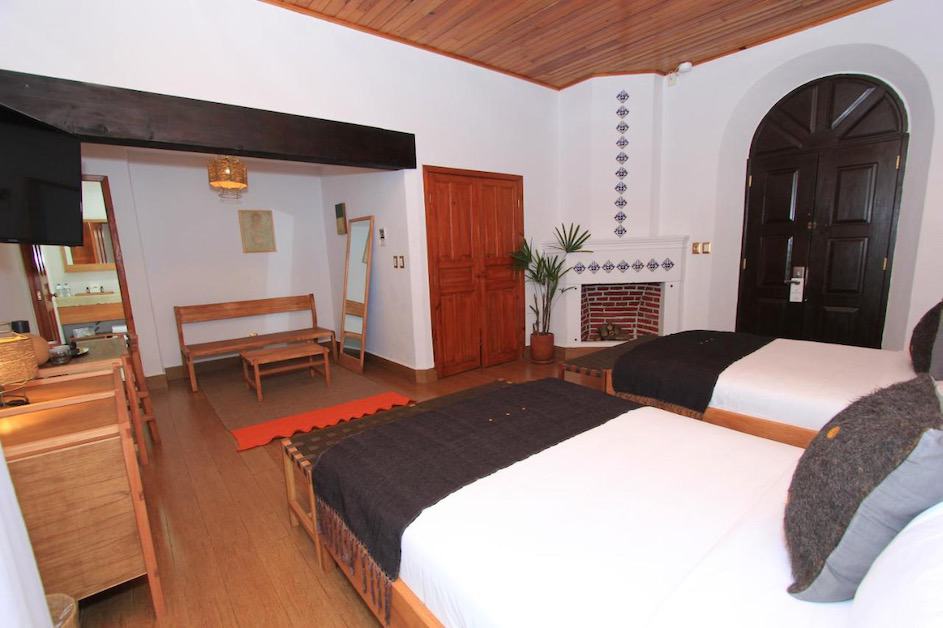 Hotel Sombra del Agua located in the city center is a great option when visiting San Cristobal de las Casas. The hotel's beautiful architecture dates back to 1907 and was one of the first hotels established in the area.
Outside of its historic significance and the innate beauty of the building, the rooms are the epitome of comfort. Spacious, well-appointed rooms with friendly staff, you can't ask for anything more.
Hopefully, that's got you started with a few things to do in San Cristobal de las Casas. But it's really only the beginning of this exciting town and region. Be sure to let us know your own tips, experiences, and thoughts below.
Looking for More Chiapas Travel Inspiration?
Still looking for what to do in San Cristobal de las Casas and Chiapas? Check out our other Chiapas articles by following the link below:
Want to remember the best things to do in San Cristobal de las Casas for later? Pin It!