Van Life Mexico: The Ultimate List of FAQs
Please note that some links on our site are affiliate links. If you choose to purchase through these links, we may receive a small commission at no extra cost to you. By using these you are directly supporting The Vanabond Tales to remain an independent travel blog.
Traveling to Mexico should be on everyone's bucket list. Mexico has it all, colorful history, stunning nature, diverse culture, and one of the best cuisines in the world.
Here you can discover pristine white sand beaches, epic surf, untouched jungles, soaring mountains, crystal blue waterfalls, charming colonial towns, sprawling metropolis, mouthwatering tacos, and bottomless margaritas. But how can you see all that Mexico has to offer from a tour bus or by hanging around major tourist traps?
Hint: You can't.
Setting out on a Mexico road trip is one of the best ways to dig a little deeper, get off the beaten path, and discover the real Mexico. But before you go, you may be wondering.
Can I Live in a Van in Mexico?
Yes!
The absolute best way to travel Mexico is in your very own campervan or overlanding rig. With the resurgence of the vanlife and overlanding culture, van life in Mexico has never been more popular. And what's better is that Mexico makes it easy to do #vanlife.
But driving a van through a foreign country is no small undertaking. And, there are many dangers and pitfalls that can befall the underprepared traveler. Thankfully, van life in Mexico is a well-trodden path with many who have gone before providing insight into just how to travel this vast country with your own vehicle.
From dealing with crooked cops to organizing your paperwork to finding campsites and avoiding scams, we've put together a list of our most helpful tips and frequently asked questions for your van life Mexico adventure!
Legal Tips and FAQs for Van Life Mexico
Before you set off, it is important to know the basics and essentials for legally driving in Mexico.
Do I Need an International Driver's License for Mexico?
An international driver's license is required for driving in Mexico if your license is not in Spanish or English.
Is Driving in Mexico with US Plates Legal?
Yes and no. Driving in Mexico with US plates is legal as long as you are on a tourist visa. Permanent residents, foreign citizens, and Mexican nationals are not allowed to drive foreign plated cars unless you own the car and drove it over or are an immediate family member with tacit permission.
If you are there on a tourist visa and you do bring a US-plated car to Mexico, be aware, that you may be stopped by police inquiring as to the whereabouts of your front plate. Unlike in other countries, in the United States, front license plates are not required. We were stopped on multiple occasions throughout Mexico inquiring about our front license plate. However, after a simple explanation that this is not required for US plated vehicles, we were allowed to continue onward.
What Do I Need to Know About Border Crossings in Mexico by Car?
Would you show up to a job interview unprepared? Border crossings may not be as important as job interviews, but showing up prepared is one way to make the process a lot easier. So here is a basic rundown.
If you plan to self-drive in Mexico, you need to first obtain a personal visa or Mexico Tourist Card (FMM). To obtain the Mexico Tourist Card you only need a valid passport and to pay the entry fee of $500 pesos (~$25 USD).
Note: You only need to pay the Mexico entry fee if you travel overland, the entry fee is included in the price of your airline ticket if you travel by plane.
Once you have your Mexico Tourist Card you will need to make a photocopy of the card. Inquire with the immigration officer where to obtain a copy. At the US-Mexico border that we crossed, there was someone set up in the building to make copies for $1 USD for each copy. At the Mexico-Guatemala border, we were sent to a store across the road to make copies for a fraction of the amount it costs in the US.
Once you have a copy of your Mexico Tourist Card, then you need to obtain your Mexico Vehicle Permit also known as Temporary Import Permit (TIP) for your vehicle. Below are the documents that we needed to cross the border into Mexico.
Passport of the registered owner (original and 1 copy);
Vehicle registration (original and 1 copy);
Drivers license of the registered owner (original and 1 copy); and
Mexico Tourist Card (FMM) you received when you crossed the border (original and 1 copy).
The cost of the Mexico Vehicle Permit is $1,153 (January 2020) payable to the Banjercito. You will also need to pay a deposit called the Temporary Import Deposit which is determined based on the age of your vehicle. The deposit for vehicles before 1996 is $200, for vehicles between 1996 – 2000 $300, and for vehicles after 2000 $400.
The Mexico Vehicle Permit lasts for 180 days which is the same as the Mexico Tourist Card.
Pro-tip: If your vehicle qualifies as a motorhome, you can apply for a ten-year vehicle permit. We did not qualify, but my understanding is that you only have to show the vehicle has an onboard toilet to meet the requirements. I have even heard of someone putting a toilet seat on a box and qualifying. If you do have a toilet, we recommend this option as you won't need to pay the additional fees if you do plan on staying longer or want to return.
Pro-tip: Go early! Getting to the border when it first opens means that there will usually be fewer people. We also find the people are generally nicer and more helpful in the mornings as opposed to afternoons. Go figure!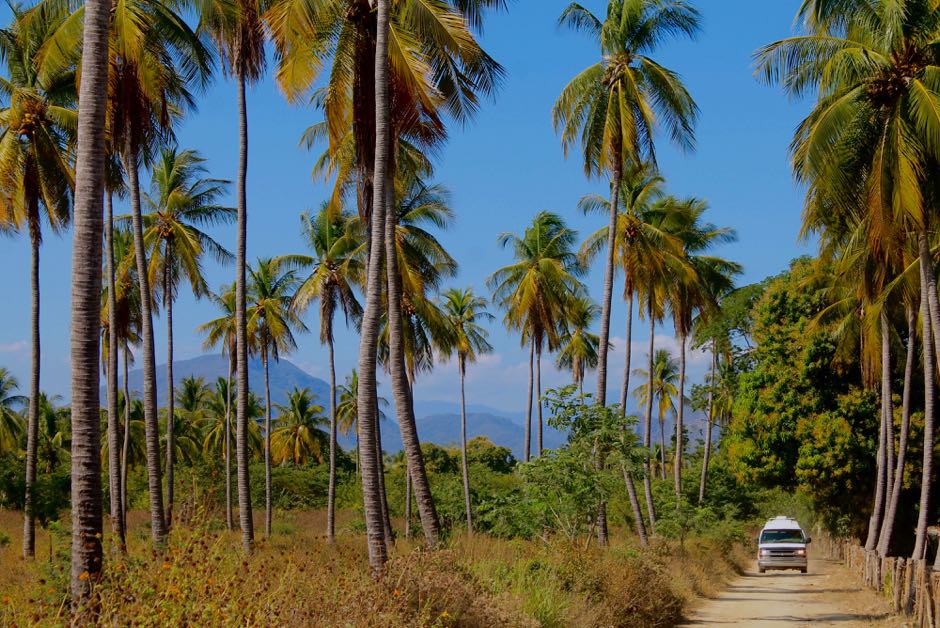 Do I Need Car Insurance in Mexico?
Yes. Car insurance in Mexico is compulsory. You may be thinking, well if I am just popping over into Mexico for a short while, do I really need it? Again, the answer is yes. Most US insurance companies do not offer coverage in Mexico, and therefore you need to arrange it in advance.
Cross Border Coverage offers Mexican auto insurance for American plated cars, RV's, ATVs, campers, watercraft, and more.
For less than $300 USD, we were able to ensure our van with full coverage for a year. This is an absolute steal when compared to prices in the United States.
Can I Buy a Mexican Plated Car in Mexico as a Foreigner?
Yes. Technically you can buy a car in Mexico as long as you have the means. Registering the car, however, will be problematic. To register a car in Mexico you need to provide proof of your Temporary or Permanent Visa plus proof of your Mexican address. For more on buying a car in Mexico, we recommend checking out the article by Own Mexico explaining everything you need to know about purchasing a Mexican car in Mexico.
There is always the option, however, of buying a car from another traveler with foreign license plates. Well, it isn't quite as simple as that but there are ways around it.
Can I Buy a Foreign Plated Car from Another Traveler in Mexico?
Selling your foreign plated car in Mexico is technically illegal as you are not allowed to sell your vehicle on your Temporary Import Permit which is registered in your name. In order for the sale to be legal, you would need to import the car, pay the import duties, and register it in Mexico. Seems too much like a headache right?
If you don't want to do this (and really who does), there are two different options to consider, detailed below.
Option 1: Transferring Ownership
The first option is to transfer the registration of the vehicle to the buyer, but DO NOT MENTION SALE. From now on, we will call the seller the transferer and the buyer the transferee. Some countries, for example, the US and Western Australia (not all Australian states), will allow you to transfer the registration of the vehicle from your name to another person even non-US / non-Australian citizens and residents. Other countries such as Germany, France, Belgium, and the Netherlands will allow you to transfer the vehicle registration IF the registration is current.
So what exactly do you need to do?
Step 1: Transfer the Vehicle Registration
Step 2: Cancel and Reissue the TIP
The transfer of the vehicle should take place near a border as you will both need to visit the aduana. The transferer's TIP needs to be canceled and the transferee needs to obtain a new TIP. (Note: If the transferer doesn't want to go to the border, you can always obtain a PODER and the transferee can cancel the TIP on the transferer's behalf.)
Option 2: PODER
So what if you have a car from a country where you cannot transfer ownership? Don't worry, you still have an option. If you cannot transfer ownership then you will need a letter of authorization known as a carta poder. A Poder is a notarized Power of Attorney document that grants specific rights to the recipient/s listed as the beneficiary such as granting full authority over a vehicle to another individual. This document allows the new owner to operate the vehicle as their own and allows them to do with the vehicle as they see fit.
A poder does not change the original documents and technically still remains under the name of the person listed on the title and registration documents. The wording of a poder is important as it must include specific points and contain specific information.
Once you have a poder, you need to have the poder apostilled. An apostilled certificate is a document attached to the original document confirming the document is legitimate and authentic. It basically confirms the notarized document has been signed by the named person in the capacity of the notarized public and bears the seal of the notarizing body.
Ok, so what now? The TIP needs to be transferred to the new "buyer's" name. You can do this by both going to the Aduana or the buyer can transfer the TIP to the appropriate name using the poder. To enter future countries, you will need to provide the vehicle document in the seller's name and the poder to obtain new temporary import documents.
Hopefully one of these options will work for you. If not, there is always the option of renting a car in Mexico (See more on renting a car in Mexico below).
Can I Leave My Van and Travel Out of Mexico?
Technically the answer is no, but it can be done. Our van in Mexico was registered under my name and tied to my passport. During our time in Mexico, however, I left Mexico on four separate occasions while Eddie and the van stayed behind.
With this being said, you are taking a gamble that immigration will flag this on your departure or your return. And while this did not happen to me, I have heard horror stories of cars being seized by the government when people have left them behind and of the staggering costs to retrieve them. All in all, it may not be worth the headache if you were to run into trouble. Our advice, for leaving a car in Mexico while you leave is to just cancel the TIP in a border-free zone and leave it there.
What Do I Need to (Legally) Rent a Car in Mexico?
So maybe you don't want to bring your own car for your van life Mexico adventure and maybe you want to self-drive Mexico in a rental. No worries, all of the major players like Enterprise, Budget, and Hertz in the car rental service have operations in Mexico. To rent a car, however, most companies require you to be 25 or older although the Budget website lists 18+ drivers as acceptable. You also need a valid driver's license from your home country plus an international driver's license if your license is not in English or Spanish. And don't forget about insurance. Third-party insurance is compulsory in Mexico even when renting a car.
the Mexico Free Zone (the Border Free Zone)
What Is the Mexico Free Zone?
Mexico is unique in that it has several border-free zones where tourists do not need to pass through immigration to visit for a limited time. These areas were designated by the Mexican government to increase tourism along the border with the United States which makes traveling to Mexico a bit easier for those looking to make a trip just over the border.
So you may be wondering, where is the Mexico Free Zone? The Mexico Free Zone includes the following states:
Baja California (Yes, the entire state is a border free zone)
Sonora – From Agua Prieta northwest of Mexico 2 through to Cananea where Mexico 2 intersects with Mexico 15 in Imuris. The free zone in Sonora lies to the northwest of Mexico Federal Highway Number 2, starting at Agua Prieta. It extends through Cananea, to where it intersects with Mexican Federal Highway 15 in Imuris. From Imuris, all of the areas to the north and west of Mexico Federal Highway 15 are included. Kilometer 98, southeast of Empalme, is where the free zone ends.
Quintana Roo (Yes, the entire state is a border free zone.)
So if you are looking for a sneak peek of a van life Mexico adventure, perhaps a quick test run in the Mexican Free Zone is for you!
Do I Need Car Insurance in the Mexican Free Zone?
Yes. If you bring a car into Mexico even in the Mexican-free zone, then you are required to have Mexican car insurance. American or other foreign car insurance is not accepted in Mexico. The cheapest Mexican car insurance we found was Lewis and Lewis Mexican Auto Insurance.
Driving Tips and FAQs for Van Life in Mexico
What Kind of Car Do I Need to Self-drive Mexico?
Before you begin your self-drive Mexico adventure, you might be wondering what kind of car you will need. Whether your vehicle of choice is a motorbike, car, van, or really just about anything you would like, they are all suitable for traveling in Mexico.
We have met people with what today is seen as the gold standard in modern vanlifing, the Sprinter van, classic kombis, huge custom Man trucks, regular 4WDs, or vans kitted out to fit overlanding needs, motorbikes, and even bicycles. You name it, we have seen it. We have even heard of people traveling through Central and South America with a tuk-tuk. The moral of the story, choose whatever you think will be most comfortable for what you need.
We personally did not have a 4WD on our Van Life Mexico adventure and we really didn't think it limited our ability to go places that we otherwise would have visited. Maybe if you plan to spend a lot of time in Baja California and even then you probably could get by without a 4WD.
Looking for inspiration for your own van conversion before heading out on your own van life Mexico adventure? Check out our DIY van conversion guide.
Is It Safe to Drive in Mexico?
Is it safe to drive through Mexico? And is self-driving Mexico safe?
These are two of the most commonly asked questions we get regarding our van life Mexico travels.
So, the verdict? Is driving in Mexico safe? Yes. We found driving in Mexico safe as long as we took basic precautions. And, we found that (most) roads in Mexico were far superior to roads in other developing countries (looking at you South America). The most dangerous thing on the road in Mexico, however, may be the topes (more on this below).
But this does not negate the fact that you are in a developing country. While we found police corruption far less of an issue in Mexico than in other Latin American countries, we did encounter it occasionally. And there was also the threat of petty crime and local scams especially in remote areas like rural Chiapas.
While safety should be something to be considered if you are mindful and prepared you can mitigate many of the risks of traveling this beautiful part of the world.
We live by the following rules when driving in Mexico:
No driving at night.
Download Google Maps or Maps Me in case you get lost and have no reception.
Avoid "high-risk areas" – More on how to identify these areas below
If stopped by the police or community, don't try to argue. The path of least resistance is usually best.
Using these guidelines when driving in Mexico worked for us. Occasionally we pulled the "I don't speak Spanish card (which isn't so far from the truth)", but never once did I need to whip out the tears as I did in Ecuador because of police corruption.
The moral of the story, just be smart and stay alert. Most of Mexico isn't as dangerous as the media makes it out to be.
How to Deal with Traffic Cops in Mexico?
If you self-drive Mexico especially with a foreign license plate, you will be stopped by the police. It is inevitable. How they treat you, however, is a toss up. We found the police overall in Mexico to be reasonable. They stopped us, just like they stopped everyone else, to do their job which was mainly ensuring we had the proper paperwork or to ask us about our front license plate.
The only "run-ins" we had with the police were in the extremely popular Yucatan Peninsula. And even then these were minor.
The most common issue with traffic police is an old bribery routine. Police will insist you have committed some infraction, even though you aren't certain you have. Perhaps something about your vehicle is not legal, or you failed to follow some local law or mystery street sign. The penalty for this infraction is huge, big fines, and even long-term vehicle impoundment. Oh drat. Luckily your amigos the police will take care of you and make it all go away if you can pay an on the spot fine in cash, far less than the original charge.
If you do get this routine (and we have been stopped plenty in South America), then consider using these tactics to deal with the police:
Stay friendly, aggression definitely won't help this situation
Play dumb. On numerous occasions in Mexico, the police simply let us go when we pretended (ok, we really weren't pretending) that we could not speak Spanish. After spending thirty frustrating minutes communication via Google Translate, it may start to seem like more trouble than it is worth for the corrupt cops.
If playing dumb doesn't work, you could try to escalate. Explain (while keeping things light and friendly) that you don't believe you have committed an infraction and you would like to get a written ticket so you can go to the police station and dispute the ticket. Be sure to ask them for their names and the name of a superior you can discuss it with. At this point, hopefully, they will back down not wanting to get caught out in their own corruption. If they don't back down, well now you have to follow through. Get names. Write down the name of the officer(s) in charge. We have heard of people following up with charges subsequently and having rulings overturned. We have also heard of bribes doubling when the supervisor gets involved, so make sure you are prepared for the possibility if you request to speak to a supervisor.
Cry. You may think we are kidding, but it actually works. We have never seen a corrupt police officer throwback our documents as fast as we did in Ecuador when the waterworks came.
Pay. When things seem dangerous or start to escalate, we recommend paying. At the end of the day the police, like anywhere else have power and if they get the inclination, they can use that power to make life difficult or worse. It isn't worth the trouble to save the $10 it might cost you if the officer isn't backing down.
What is Tope in Mexico? And Why Are They Potentially the Worst Thing about Van Life Mexico?
Think of topes as the cartels of the Mexican road system. They are hard to spot and are extremely dangerous.
So what exactly is a tope? A tope is simply a speed bump. Many things separate the Mexican tope from the normal speed bump but the most noticeable (or least noticeable perhaps) is that they are often unpainted. Imagine how difficult it is to see a speed bump the same color as the road going 50 kilometers per hour in the dark. Almost impossible!
Another key difference is the homemade nature of many topes, used by communities to limit speeds around their towns and villages there doesn't seem to be any regulation around the size or severity of topes either, and many are quite aggressive. Decisions behind distances between tope placement is another mystery that continues to elude our comprehension.
And while the locals seem to know where the topes are, foreigners do not. So word to the wise, keep your speeding in check or your suspension could need replacing even after only a short road trip in Mexico.
At the end of the day, topes do seem to serve their purpose, as we have seen fewer car accidents and less speeding in Mexico than in other places we have driven.
Can You Explain the Cuota v. Libre Roads?
There are often two types of roads in Mexico. The cuota or paid roads are the toll roads and the libre or free roads are well just that, free. The road quality of the cuota roads are usually considerably better, however, better roads come with a price.
Tolls in Mexico can be quite expensive. On one occasion in Quintana Roo we paid $266 pesos or for a one hour and forty-five-minute journey from Valladolid to Playa del Carmen. Sounds like highway robbery to me!
If you do decide to take the libre (free) roads, head this advice. BE CAREFUL OF TOPES.
For more advice on whether it is safe to drive through Mexico check out our article Is It Safe to Drive Through Mexico? The Complete Van Life Guide!
Camping FAQs for Mexico Vanlife
Are There Campgrounds in Mexico?
Many people enjoy the idea of overlanding or road-tripping but prefer to stay somewhere with some sort of civilization, say a toilet and running water. Luckily for you, there are plenty of campgrounds available as you overland Mexico or individuals running campground like facilities from their backyard. iOverlander, discussed below, will be your best friend when finding the best campgrounds in destinations you plan to van life Mexico adventure.
What if I Cannot Afford a Campground Every Night? Or Love Wild Camping?
Good call! Boondocking or wild camping is our favorite form of camping. Boondocking means camping outside of designated camping areas and without access to water, electricity, or a sewer system. Boondocking in Mexico can be done anywhere as it is legally accepted unlike in some other countries. Whether you choose to camp next to a beach or on top of a mountain, or at a gas station the choice is yours. We do recommend, however, to speak with the locals nearby to let them know you are there and to make sure the area you have chosen is safe. Trust us, it will make you and the locals feel much better in the long run even if you have to wing your way through broken Spanglish to get there!
Check out our favorite boondocking in Mexico locations!
And look, if camping really isn't your thing there are plenty of hotels and hostels in Mexico for your choosing. Check out Booking.com for the best deals!
Is It Safe to Stealth Camp in Cities in Mexico?
Stealth camping is secretly camping in your vehicle in a public place, say in a city street or in a shopping center car park. No one loves stealth camping, but as part of your Van Life Mexico trip, I am sure you will find yourself stealth camping on occasion.
When we are not camping at the Walmart parking lot in cities throughout Mexico, we stealth camp. For example, we camped outside a local park in Oaxaca for three weeks off and on and it was perfectly safe.
Another time, we camped on the streets in Palenque and woke up in the middle of the night to a burglar in our car.
And while this was terrifying, it was also a one off incident, and we still recommend stealth camping when the occasion arises. And on the whole, we never felt it was "unsafe" when we were stealth camping in Mexico.
If you do decide to stealth camp, remember to park in well-lit areas and preferably in areas that have been reported to be safe.
Safety Tips and FAQs for Van Life Mexico
Is Mexico Safe?
This is the number one question we get about van life in Mexico. Well, actually we get asked, "Isn't Mexico dangerous?!"
Traveling through Mexico, like anywhere else, comes with some inherent dangers. However, sometimes the media's focus on the sensational can distract us from the true dangers of a region. Many people have often questioned our decision to overland through Mexico, and some have asked is it safe to visit Mexico at all.
While Mexico's crime rate is higher than say the United States, the true statistical risk of being the victim of serious crimes is extremely low. Within some states such as Campeche and Yucatán, these rates fall below the National Average for the United States. Conversely, both the rate and the severity of food poisoning cases increase dramatically South of the Border.
Given that, putting all your energy into avoiding being kidnapped in Mexico rather than avoiding suspect street meat will likely put you in the hospital quicker than the cartel. Making sure you understand the true risks and how to mitigate them is the key to staying safe in Mexico.
Is it safe to travel in Mexico? Yes, in our experience, with proper preparation, precaution, and mindfulness, Mexico is safe to travel.
Where Is Safe to Travel in Mexico?
Mexico is a huge country, so it is unhelpful to make generalizations about the entire country as either safe or unsafe. Instead, care and research should be taken in each area you travel in to help understand and mitigate the risks associated with particular regions.
It is equally unhelpful to label some areas of Mexico (or anywhere else) safe, and others unsafe. The fact is that dangerous scenarios can develop very quickly. Acapulco once considered one of the premier vacation spots in Mexico, is, as of 2014, considered one of the most dangerous cities on earth. One where the military has disarmed the corrupt police force, and where rates of violent crime are some of the highest in the world.
To travel safely through Mexico you first need to research your destination(s). By researching the specific areas you are intending to visit, traveling only in areas where it is safe, and taking basic precautions you will find risks can be managed and mitigated and, that travel through Mexico can be done quite safely.
How Can I Find Out Which Parts of Mexico are Safe for Travel?
Understanding the political, economic, social, and military situation within the region you plan to travel is as important as it is simple. But how can you keep yourself informed and up to date with the current situation of a particular location?
Government Agencies
One source to begin your broader research are government foreign affairs agencies. Government websites offer travel resources and up to date information and travel warnings. We use the US Bureau of Consular Affairs site and the Australian DFAT website.
These are great places to research known travel warnings and issues. It is also a good place to research regions in Mexico (or other places) that your government has deemed high risk and will not offer consular assistance in.
The US Government, for example, keeps a website with a list of states categorized as 'do not travel' or 'reconsider travel', along with the threats that they have identified in these regions (usually crime, occasionally kidnapping). We have avoided traveling to all states categorized 'Do Not Go' although many have traveled these areas incident-free. Honestly, we considered visiting some of these areas and probably would have if there weren't so many wonderful places that were not flagged by the US Department of State. We traveled through many states marked as 'reconsider travel' such as Chihuahua, Jalisco, Nayarit, Nuevo Leon, San Luis Potosi. In these areas, we took extra precautions to ensure our safety.
Online Groups, Groups, Forums and Apps
Online forums like Facebook groups such as Over Landing South and Central America and Panam Travellers Association are great forums to seek advice on particular areas from experienced travelers for localized and current information.
Another tool we use for local research is iOverlander. This mapping and travel app uses community contributions to provide up to date travel information including warnings from other overlanders. This resource is helpful for issues at a local level which might escape the attention of government websites.
Local News and Local Government Agencies
If you do find yourself in a localized emergency situation, local online news is the best place to get information. You can also get in touch with Mexico's governmental tourism agencies such as the tourist police for the region you are traveling in.
Situations can develop quickly so it is important to stay informed through local channels. We are not talking about drug cartels with assault weapons here either. Civil unrest, blockades, and protests can turn violent quickly. Steer clear of these situations or face being singled out as a foreigner.
Consular Services
Finally, your own country's consular service in the region can help you stay up to date with situations as they unfold.
By staying informed and avoiding areas with increased risk you are doing the best thing you can to avoid being the subject of serious crime.
How to Avoid Getting Robbed in Mexico?
Ok, so this one might sound like a silly question, but petty theft is a common practice in Mexico. Tourists make for easy targets especially those in large groups and when alcohol is involved. Ways to stay safe in Mexico and minimize your chances of getting robbed include:
Don't walk alone at night
Avoid dark alleys and roads
Avoid flashing wads of money in restaurants, bars, and nightclubs
Avoid wearing flashy jewelry
Familiarise yourself with the places to visit and avoid dangerous areas
Don't get too drunk (and you know what I mean)
Obviously, bad luck could still befall you even if you follow these guidelines. Just remember to always be aware of your surroundings and stay alert.
How to Avoid Getting Scammed in Mexico?
Just like anywhere, in Mexico, there are some dodgy people who will try to take advantage of confusion and uncertainty from tourists. Scams range from the innocuous to the bizarre to the downright dangerous. And as soon as you think you know every scam there is someone goes and invents another. Follow your gut, stick to the plan, don't trust anything that sounds too good to be true, and don't be afraid to ask a passing local for help if you smell a scam.
Here are some examples of popular scams in Mexico to be on the lookout for.
Overpriced Vegetables
In this innocuous marketplace scam, the fruit and veggie vendor has a computer-like ability to eyeball your groceries and price them on the spot. One tomato, 20 pesos, bunch or coriander 20 pesos, single grape better believe that's 20 pesos. When you're still getting your bearings in a foreign country, working out currency conversion, and relying on rusty Spanish it can be easier to pay first and realize you have grossly overpaid later. When shopping in the market, ask for the price upfront and compare a couple of stalls to get the best price, you may never get the local price but you can avoid being a total sucker.
Wrong Change
Okay so you have figured out the true price of fruit and veg and you always ask for a quote before you buy great. You grab a banana and hand over your 500 peso bill only to receive a couple of pesos back. You explain the misunderstanding to the shopkeeper who doesn't seem to remember the 500 pesos which have evaporated from sight. Pay in small bills, preferably with correct change where possible.
Double Entry Fees
You are driving into your next tourist destination, ancient Mayan ruins, gorgeous waterfalls, or deep clear cenotes, and are stopped on the road by some local people collecting the entry fee you happily pay up and receive your ticket. Lo and behold further down the road, a more official traffic stop tells you the original ticket was bogus or was for some other levy (road access fee??!) and won't get you into the attraction. If it doesn't feel right and there is no gate, safest to pretend you didn't see the people flagging you down and keep on driving.
Traffic Police Scams
Police will insist you have committed some infraction, even though you aren't certain you have. Perhaps something about your vehicle is not legal, or you failed to follow some local law or mystery street sign. The penalty for this infraction is huge, big fines, and even long term vehicle impoundment. Oh drat. Luckily your amigos the police will take care of you and make it all go away if you can pay an on the spot fine in cash, far less than the original charge.
You will need to feel this one out and it can be tricky. Strategies to avoid this scam are about making it more trouble than it's worth for the police officers. Make communication impossible by not speaking any Spanish. Alternatively, if you are certain you haven't done anything wrong request the written ticket and say you will follow the officers to the police station to sort it out there, make it clear you will be appealing the bogus ticket. Finally, if all else fails, turn on the waterworks and melt their icy scammer hearts.
The Barricade
It could be a couple of kids with a rope or it could be an entire town with homemade tire spikes but the intention is the same. Block the way until cooperation (donation) is made. If possible keep driving through small blockades, that rope will drop just in time. If the whole town is out in force with tire spikes, it might be worth making a small contribution.
Jet Ski Scam
Rental products like jet skis are taken out for some fun. Upon returning the operator finds that the rental is damaged. You swear you didn't do that but they are getting the 'police' involved who will invariably back them up. Only deal with operators with an existing online presence and reputation or come recommended.
Other Tips and FAQs for Van Life Mexico
How Long Should I Spend in Mexico?
How long is a piece of string? You can theoretically spend as much time (with border-hopping) or as little time as you want on your Mexico travel. We spent six months on our van life Mexico adventure and barely scratched the surface. Whether you spend 1 month in Mexico, 2 weeks, or even just a long weekend, you are bound to fall in love and return one day.
There are plenty of places to visit in Mexico. From the white sand beaches of Jalisco and Oaxaca to the jungles of Chiapas, there are so many wonderful places to explore. Check out the list of our favorite destinations!
How Much Does it Cost to Travel Mexico?
Determining the cost to travel Mexico is difficult as travel styles can vary significantly. You can travel to Mexico and spend lots of money or you can travel to Mexico on the cheap.
On average, we spent USD $350 per week on living expenses for two people. This includes food, alcohol, pre-paid mobile phone plan, laundry, gas, tolls, and other day-to-day expenses. The majority of our budget went to feeding our gas-guzzling Chevy and of course feeding ourselves heaps of tacos!
Could we have done Mexico cheaper? Yes. Did we feel as though we missed out on things with our weekly budget of USD $350? No.
Prices in Mexico are generally cheaper than in the United States or Australia, so on your van life Mexico adventure, you may even spend less per week on the road than you would at home!
If you want to learn more about how much it costs to travel Mexico, check out our more detailed post to give you an idea of what a day-to-day travel budget could look like.
Do I Need to Speak Spanish for Van Life Mexico?
Spanish is the national language spoken throughout Mexico. While we recommend learning at least the basics of Spanish, it is not a necessity. In most large cities, some people will speak English.
Can I Drink the Water in Mexico?
No. Although some regions now have reliable treated water, the general rule of thumb in Mexico is to consider all water outside high end restaurants and hotels suspect. This should also be considered when you are contemplating frozen margs or iced cocktails. Double-check the ice is made from purified water to avoid ruining your entire evening or perhaps an entire trip.
Finding water in Mexico to fill up your onboard water tanks is easy. You can purchase water from the "Agua Purificada" shops in each town or if you don't want to pay for water you usually can fill up at local gas stations and then purify the water with a purification system.
If you do choose this option remember to keep your unfiltered water and your filtered water in separate containers. We carry a Platypus Water Filtering System with us that allows us to filter 4 liters at a time which we find handy and avoids buying single-use plastics.
Pro Tip: We did find that the water was safe to drink in Monterrey, but that was the only city where it is possible as you overland Mexico.
Is There Reliable Internet or Mobile Coverage in Mexico?
If you are thinking about a van life Mexico adventure, you may be concerned about reliable internet or mobile coverage especially if you work remotely. Both Eddie and I work part-time remote jobs and found working throughout Mexico to be relatively easy with simply our mobile hotspot.
In most cities and towns throughout Mexico, you are able to find a 4G signal using Telcel, the main mobile provider in Mexico. This just means that you might need to do a bit of planning to make sure you are in a town with a signal. We typically structured our weeks to be in a place with a signal Monday to Thursday and then head off-grid for an extended weekend.
If mobile coverage is important to you, check out nperf.com for up-to-date data on signal quality throughout Mexico based on individual providers.
What Is the Currency in Mexico?
The currency in Mexico is the Mexican peso. If you are checking exchange rates the abbreviation for the Mexican peso is MXN not MXP, the old Mexican peso.
Are There ATMs in Mexico or Should I Bring Cash with Me on My Van Life Mexico Trip?
This one is up to you. We typically do not organize foreign currency before heading to a new country although when we first arrived in Mexico sorting out an ATM was kind of a headache.
ATMs are available in most cities although there are some exceptions. For example, some of the remote beaches in Oaxaca did not have ATMs available so organizing cash in advance of going to these destinations is imperative.
Most ATMs will charge a fee at the ATM (usually MXN $50) and then an additional fee will likely be charged by your bank depending on the type of fee structure you have. Many US banks have arrangements with their Mexican counterpart and will waive the fee at certain banks. Check with your bank before departing to confirm where to get cash out in Mexico.
The amount you are able to withdrawal from the ATM varies greatly depending on the bank and even the city you are visiting. Generally, I was able to withdrawal between $5,000 – $8,000 pesos at one time.
Make sure you always have cash on you in Mexico as most places do not accept credit cards. In the more popular destinations such as Oaxaca or Tulum, credit cards will be accepted at some establishments and most gas stations will accept credit cards.
If you are paying with a credit card, be careful. It is common for credit card details to be stolen in Mexico particularly at the gas station. If paying by credit card, always request the attendant to bring the machine to you as opposed to taking your card to the register. Also, double-check the amount in the credit card machine before they swipe your card. On at least one occasion, the incorrect amount was entered and it was a hassle getting our money back!
Pro-tip: When filling up at gas stations, verify the meter is set to zero before the attendant starts pumping gas. This is another common scam in Mexico to avoid!
What Other Resources Are Available for a Van Life Mexico Adventure?
iOverlander
iOverlander is a great resource for everything on your van life Mexico overlanding trip. It is a map of locations throughout Mexico detailing everything you can think of. On iOverlander you can find places to wild camp, hostels, and hotels, places to eat, laundry facilities, road closure information, corruption and warnings, literally just about everything you can think of. We use iOverlander on a daily basis when traveling in Mexico and other parts of Central and South America.
WikiOverland
You know about Wikipedia, right? Well, now there is WikiOverland that tells you everything (well almost everything) you need to know about overlanding a particular country. Just like Wikipedia, it is user-submitted, so use common sense when taking the information at face value.
Where to Go on Your Van Life Mexico Adventure?
So now that you know everything there is to know about traveling to Mexico, the next question is "Where to go in Mexico?".
There are so many places to visit in Mexico that it is hard to know where to start. As I said already, we spent six months during our van life Mexico adventure and barely scratched the surface. But to help you plan your Mexico travels, we have put together four road trips in Mexico that will at least give you a start. Or if you prefer to plan your own route, check out our list of the 25 best destinations in Mexico.
Hopefully, some of these tips, tricks, and FAQs help you on your own Van Life Mexico adventure and self-drive Mexico? Let us know in the comments about your overland Mexico trip!
Not quite ready to start your van life Mexico adventure? Pin it for later!