Welcome to Van Life San Cristobal, Mexico's charming mountain town
The charming mountain town of San Cristobal de las Casas should be on every overlander and Van Lifers list of must-see places in Mexico. Its cool weather, international influence, and charm are reasons why San Cristobal de las Casas is a place many visit and stay for a while. We have put together a comprehensive guide on all you need to know about overlanding San Cristobal de las Casas.
How to Travel by Van to San Cristobal de las Casas
From Palenque to San Cristobal de las Casas
The journey from Palenque to San Cristobal de las Casas down the Mexico 199 is long, windy, and full of topes. The 215 kilometer journey takes approximately 5 hours due to the road conditions.
Beware throughout this drive, as local communities have capitalized on the increased traffic. Townspeople gather in the middle of pueblos along the road blocking traffic, often using homemade spike strips, designed to puncture your tires. These blockades bar your onward journey unless you pay a toll (sorry 'co-operacion') to the community. We have heard of people being charged upwards of 200 pesos, but thankfully we managed to get away with only paying 20 pesos.
If you are making the drive with your own wheels or by rental car, there are many stops that can be made along the way to break up the drive. Check out our article on The Best Waterfalls in Chiapas for some inspiration and side trips to make the most of this road trip.
From Oaxaca to San Cristobal de las Casas
The journey from Oaxaca to San Cristobal de las Casas is nine hours down the Mexico 185D to the Mexico 190D. The letter D attached to a road number means tolls, which can rack up quickly, but it also means the road conditions are likely better than most meaning fewer potholes and topes.
Coming from Oaxaca (or going to) and enjoy mountain towns? Make sure you check out San Jose del Pacifico in Oaxaca.
READ MORE: Overlanding Oaxaca City
Where to Camp in the Van in San Cristobal de las Casas
Free Campsites
Walmart Parking Lot
While maybe not your first choice for camping, Walmart parking lots are usually a reliable option. Most are open from early in the morning to late in the evening and come with security guards patrolling the area and security cameras. San Cristobal de las Casas is no different. We camped at the Walmart in San Cristobal for several nights over a two-week period and felt safe. From Walmart, you can drive into town or take a colectivo for $7 pesos.
Stealth Street Camping
It is also possible to camp on the streets in the town centre but be cautious as the cobblestone streets of San Cristobal's old town are extremely narrow.
El Encuentro Natural Park (Parque Natural el en Cuentro)
If you don't require phone service for work as we do there is a free campsite outside of town on an empty lot next to the Parque Natural el en Cuentro or you can camp inside the El Encuentro Natural Park (closed Saturdays). This camp is quiet, green, natural, and best of all, not a supermarket parking lot.
Paid Campsites
El Arcotete
It is possible to camp at El Arcotete, an ecotourism park on the outskirts of town. Entrance to the park is $10 pesos and an additional $25 pesos for camping per person. The park offers lots of green space near the river and is perfect for families and people with dogs.
For more information on camping options available in San Cristobal de las Casas check out iOverlander.
Hotel Accommodation
Hostal Corazon Corteza
Hostal Corazon Corteza is a colorful hostel located a few blocks off the main walking street, Real de Guadalupe. Each of the five rooms is designed with reclaimed wood and locally sourced materials. The hostel has plenty of hanging out space with a living area inside and a large courtyard. One highlight of the hostel is the beautifully prepared breakfast each morning by the owner Sarah. The downside, only one shower to be shared throughout the whole hostel. Despite this, we recommend this place for a stay in San Cristobal.
Casa Azabache
A relative newcomer on the scene is Casa Azabache. A trendy, modern hostel delivering premium accomodation without the hefty price tag. The rooms and the hostel itself are beautifully decorated. The downside to Casa Azabache is the restriction on the usage of the kitchen. If you like to cook your own breakfast, you may want to rethink your stay as the kitchen is only available for use starting at 10:30 each morning. Other than this, Casa Azabache is a great place for exploring the town of San Cristobal.
Things to Do in San Cristobal de Las Casas
There are plenty of things to do in San Cristobal de Las Casas. Whether it is wandering the cobbled streets, dining at one of the many international restaurants, or keeping warm with a Chiapan coffee there is something for everyone. Find out more about what to do in San Cristobal de las Casas in our article The Ultimate Guide to San Cristobal de Las Casas.
Other Information for Van Life San Cristobal de Las Casas
Connectivity
Overlanders who rely on their cell service for work may find it difficult in San Cristobal de las Casas. While there is Telcel 4G available, it is patchy at best when you are in the city center. Stable and reliable 4G is available outside of the city near all of the large supermarkets.
Exercising
Just south of the old town is a large sports complex called SEDEM. Here you can find everything you need from basketball courts, soccer fields, running paths, and outdoor exercise equipment. The complex is open from 6:00 to 21:00.  For the location, click here.
Drinking Water
The rule of thumb when considering whether to drink the local water in places is to follow the locals' lead, and in San Cristobal, everyone drinks bottled water. So do as the locals do and drink bottled water. Or preferable, grab a bottle that will purify regular water as opposed to purchasing single-use plastics.
We use the Platypus 4.0L Water Filter on our travels to purify water on the go. It packs up small and filters 4 liters of water within a few minutes.
Looking for More Chiapas Destinations?
Getting out and exploring the area surrounding San Cristobal is the highlight. While the city itself is nice for a day or two especially if you are interested in eating and drinking your way around cities, the best part of San Cristobal and Chiapas is nature. With your own wheels, it makes getting out even easier. Here are our top places to visit near San Cristobal de las Casas.
El Chiflon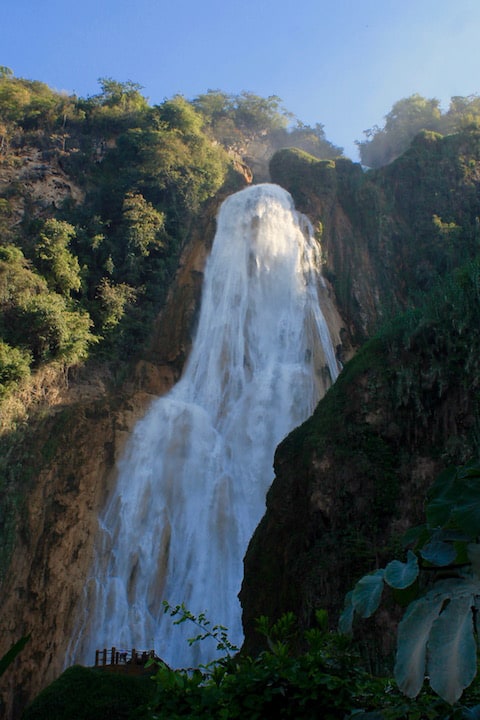 El Chiflón, Chiapas' most impressive waterfall, is a series of three waterfalls, El Suspiro (The Sigh), Ala de Ángel (Angel Wing), and Velo de Novia (Bride's Veil) with Velo de Novia reaching a height of 120 meters. While the waterfalls themselves are impressive, the real drawcard here is the unique turquoise blue color of the water. It is so impressive in fact that it doesn't even look real. The San Vincent River stretches from Velo de Novia in the brightest turquoise blue river water you will ever see. Make sure to bring your swimmers and enjoy a refreshing dip in the water. Swimming is allowed in certain areas along the river.
READ MORE: The Best Waterfalls in Chiapas
Sumidero Canyon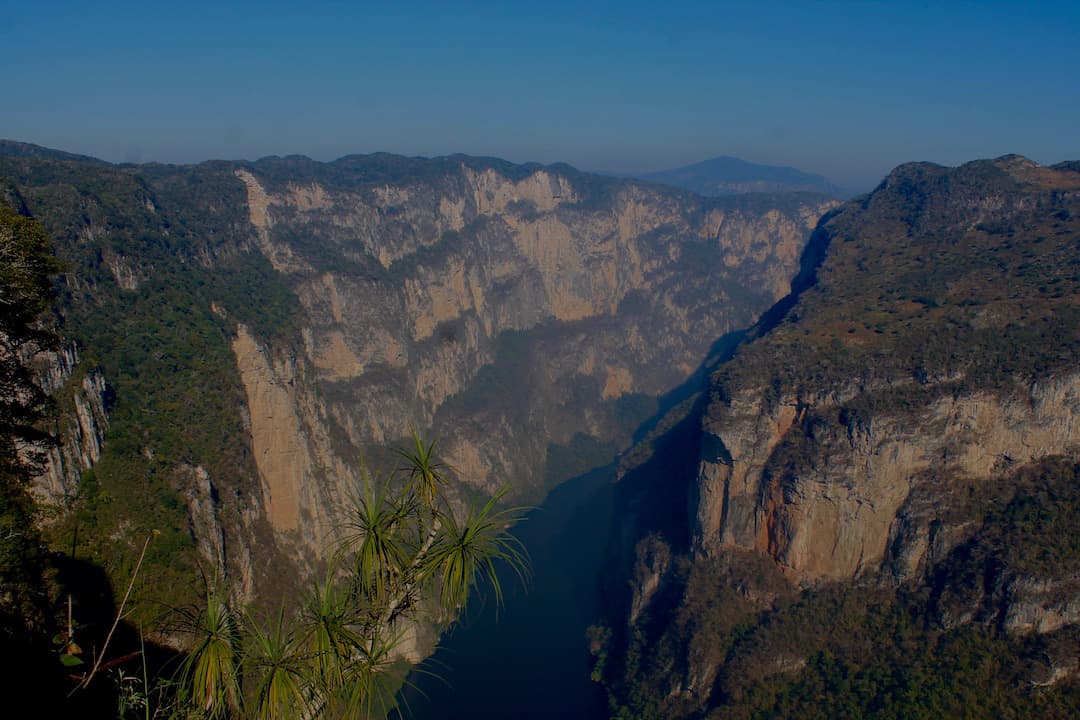 Sumidero Canyon is located on the outskirts of Chiapa de Corzo, one of Mexico's pueblo magicos. Take a 2-3 hour boat trip through the canyon awing at the 2,500 feet canyon walls or searching for crocodiles or spider monkeys who call this canyon home. If you are not interested in a boat ride, you can also explore the canyon by visiting one of the five miradors along the canyon rim.
For more on exploring the Sumidero Canyon and surrounding area check out our article Overlanding Chiapas: What to Do in Tuxtla Gutiérrez.
Did you find this article on van life in San Cristobal helpful? Why not pin it for later!