How to Get to Bansko: The Ultimate Sofia to Bansko Transfer, Bus, and Taxi Guide
Please note that some links on our site are affiliate links. If you choose to purchase through these links, we may receive a small commission at no extra cost to you. By using these you are directly supporting The Vanabond Tales to remain an independent travel blog.
Planning a trip to Bansko, Bulgaria? You may be wondering how to transfer from Sofia to Bansko to reach the mountain resort town. We have put together a complete guide on how to get to Bansko, cheaply, safely, and hassle-free.
Bansko, Bulgaria is among Europe's most exciting outdoor adventure destinations. In winter Bansko becomes one of Eastern Europe's best ski resorts with 48 kilometers of pistes, modern infrastructure, and fantastic ski apres. In summer you'll find white water rafting, canyoning, rock climbing, mountain biking, horseback riding, and more.
On top of the adrenaline-packed outdoor adventure on offer, Bansko offers breathtaking scenery, incredible history, and rich culture. It has comfortable modern accommodation to suit any budget. And of course restaurants, bars, and entertainment to keep you busy after a day of activity. What's more, prices here are far more competitive than similar alpine resorts in Europe. It's easy to see why Bansko attracts visitors from all over the world.
One thing that has kept Bansko off the radar of many skiers, outdoor enthusiasts, and travelers is the perceived difficulty to reach the mountains of southwest Bulgaria.
Fortunately, the truth is, it has never been easier to travel to Bansko. We have put together the only guide you'll ever need to learn exactly how to get to Bansko Bulgaria.
How to Get to Bansko, Bulgaria
Bansko sits in the shadow of Mt. Vihren in the Pirin Mountains. It is two hours south of Bulgaria's capital, Sofia.
Bustling Sofia is the gateway to Bulgaria and to Bansko. Most travelers arrive in Sofia, before making their way to the mountains.
How to Get to Bulgaria
Plane
The easiest and quickest way to reach Bulgaria is by air. Sofia Airport handles the vast majority of Bulgaria's international flights which come predominantly from Europe. Most major European cities offer direct flights to Sofia. There are also a few direct flights from Russia and the Middle East.
A handful of international flights from Germany and the UK also fly to Plovdiv, Bulgaria's second-biggest city, two hours and forty minutes east of Bansko.
Bus
Bus remains the cheapest way to travel to Bulgaria. International buses run from most major European cities and from Turkey. Check routes carefully and understand if you require visas (for example if transiting through Serbia). Drivers often don't speak English (especially if traveling by Bulgarian bus service). The bus from western European hubs can take upward of 40 hours and delays are common.
Train
Sofia is also serviced by international rail. Kiev, Istanbul, Moscow, and many European hubs connect to Sofia. There aren't many direct trains to Sofia and you may need to travel to Bucharest in Romania or the Serbian border town of Niš before continuing to Bulgaria.
Car
It is possible to self-drive to Bulgaria from Western Europe through Serbia, Romania, or by taking a ferry from Italy or Greece.
Driving in Bulgaria can be a challenge if you are not used to it. Some signage is exclusively in Cyrillic. Modern highways connect major cities but outside of these, roads can be in poor repair with potholes and uneven surfaces. If you come in winter, driving conditions can be hazardous in the mountains.
How to Get from Sofia to Bansko
Once you make it to Sofia, there are a number of options to reach Bansko.
You can preorganize a transfer service to pick you up from the airport, a hotel or the Sofia central bus station. This is the easiest way to get from Sofia to Bansko and can be very affordable.
It is also possible to use a taxi to reach Bansko. Taxis can potentially be the quickest and most flexible way to reach Bansko but also the most expensive (starting around €80), and potentially troublesome.
An intercity bus network connects Bansko, Sofia, and other major hubs in Bulgaria. The bus is the cheapest way to reach Bansko, at just over €8 (+€0.80 if you need to get the metro from the airport to the central bus station or +€5 to take a cab.)
Finally, you can rent a car and self-drive from Sofia to Bansko. However, this solution is expensive and comes with some drawbacks.
How to Organise a Transfer from Sofia to Bansko
Pre-booking a Sofia to Bansko transfer is the best and easiest way to get to Bansko.
Transfers run between Sofia Airport Terminal 2 and Bansko. It is also possible to organize transfers from Plovdiv or a different address in Sofia with prior arrangements.
Traventuria Transfers are the most popular and trusted option when it comes to affordable, professional, and hassle-free door-to-door transfer. Traventuria Transfers offer the most competitive rates and a flexible range of transfer options to suit any budget or requirement.
Transfers include door-to-door transport for yourself, luggage, and ski gear in modern comfortable vehicles, most of which are equipped with wifi. You can choose from private, semi-private, or shared transfers, where your professional driver will meet you upon landing in Sofia right outside the arrivals hall.
If you're not sure where to go, follow the yellow markings on the floor to find the taxi and transfer services.
Private transfers are just that. They include your own personal driver who will meet you with a sign outside the arrivals hall and take you and your party directly to your accommodation in Bansko. Traventuria will monitor your flight and be there waiting when you arrive, regardless of delays.
Semi-private transfers mean you will share a ride with anyone else arriving on your flight. Again, transfers are linked to your flight number. Traventuria will monitor your flight and account for any delays to your schedule so you can be sure your ride is ready and waiting when you touch down.
Shared transfers operate on a fixed schedule, departing the airport at 12:30 pm, 2:30 pm, and 4:30 pm each day. With transfers costing between €11 – €20 one way, this represents a fantastic combination of convenience and economy. Shared transfers book out early so be sure to reserve your spot in advance. Keep in mind that these services leave from the bus station outside the airport and this is where you'll need to meet the transfer. If you choose this option be aware that the transfer won't wait for you if your flight is delayed.
Finally, if you've left your trip planning until the last minute, be sure to check out Traventuria's last-minute transfer special offers for great deals on transfers.
We were invited to try out Traventuria's semi-private transfer between Sofia airport and Bansko.
We booked our ride online using the easy-to-navigate portal.
As we were staying in Sofia, we caught the metro to the airport. The metro is incredibly convenient. The M4 runs from the center of town directly to Sofia Airport in about 20 minutes and costs just 1.60 BGN or €0.80.
The Sofia Airport is small, well signed, and easy to navigate. Transfers and taxis can be found outside of the arrivals hall. If you are unsure follow the yellow markings on the floor to 'taxis'.
If you have booked a semi-private or private transfer your driver will be waiting outside with a name board. If you can't see your name, simply ask one of the Traventuria reps, clearly visible in their bright green jackets. They'll be able to help you find your ride.
Transfer vehicles are mostly small to medium transport vans. They are modern and comfortable with enough room for you and your ski gear too. Many vehicles are equipped with wifi so you can get online and make any final arrangements before you arrive in town.
We found the Traventuria drivers to be professional and helpful. Drivers speak English and were easy to locate in the airport.
The trip itself takes just over two hours as you travel out of Sofia, south toward the Pirin Mountains. The first hour and a half is mostly highway, taking you past Bulgarian towns and countryside.
Upon arriving in Bansko the transfer swung by Traventuria ski rental where were given a welcome pack including maps, information and ski rental discounts.
The transfer then took us directly to our accommodation.
We were extremely impressed with the transfer. It was easy to organize. Simple to find and identify our transport. Drivers and staff were prompt and friendly and the ride was comfortable.
Need ski or snowboard rental? Traventuria also offers the largest range of gear at a discounted rate when you bundle your transfer and ski rental. They also offer lift passes, lessons, tours, and activities.
How Much Does a transfer from Sofia to Bansko Cost?
A Bansko to Sofia transfer shuttle is surprisingly inexpensive.
Shared transfers with Traventuria start from as little as €11 for the 4:30 pm evening service or €20 for the afternoon services at 12:30 pm and 2:30 pm.
Semi-private transfers start at €61 for one person but only increase marginally with each extra person. Two people costs €68 through to €185 for 16 people (just €12 per person).
Private Bansko airport transfers begin at €102 for one, but again, prices increase marginally and it becomes very cheap to travel by private transfer with a large group.
How to Catch the Bus from Sofia to Bansko
Catching a bus from Sofia is the cheapest way to reach Bansko, but also the slowest and least convenient. The Sofia to Bansko bus leaves four times per day from the Sofia Central Bus station. The bus takes between 2 hours and 45 minutes and 3 hours and 15 minutes. A bus ticket costs approximately €8 euros.
The Sofia Central Bus Station is located in the center of Sofia. If you are traveling from the Sofia airport you can take the airport metro to Serdika Station and change to line 2 which runs to the bus station. The journey takes less than 30 minutes and costs just €0.80. Alternatively, a taxi should cost between €4 and €7 and should take about 20 minutes.
If you are traveling with excessive luggage or ski gear, you may not be admitted on the bus and might need to consider another transport option.
The Bansko Bus Station is at the northern end of the town about 2 kilometers from the main tourist district near the gondola.
Looking For Bansko's Only Ski in Ski Out Accommodation?
The Kempinski Hotel is the ultimate luxury accommodation in Bansko. This lauded and highly rated hotel prides itself on its fabulous location, right on Bansko's ski road, comfortable and well-appointed rooms, and fabulous facilities including bars, pools, restaurants, as well as a luxury spa and sauna.

Check Availability Here:
Booking.com
Hotels.com
Agoda.com

Taxi From Sofia to Bansko
You can take a taxi from Sofia to Bansko. It will cost significantly more than the bus or a transfer, upward of €80. As a rule, drivers don't speak English. They will probably also not be familiar with Bansko, and you'll need to be absolutely sure where you are going.
O.K. Supertrans is the only taxi company authorized to operate at Sofia Airport. O.K. Supertrans is a reputable cab company but there have been instances of drivers convincing passengers to accept a flat fee rather than use the meter and extorting much higher fares. Make sure your driver turns on the meter before you start your journey.
If you are catching a taxi to Bansko outside of the airport be aware that some less scrupulous taxi operators use underhanded tactics like an extremely high per kilometer rate to charge foreigners huge cab fares. Always use O.K. Supertrans taxis but beware, many cabs imitate O.K. Supertrans cabs using similar names, colors, and logos.
Rent a Car Sofia to Bansko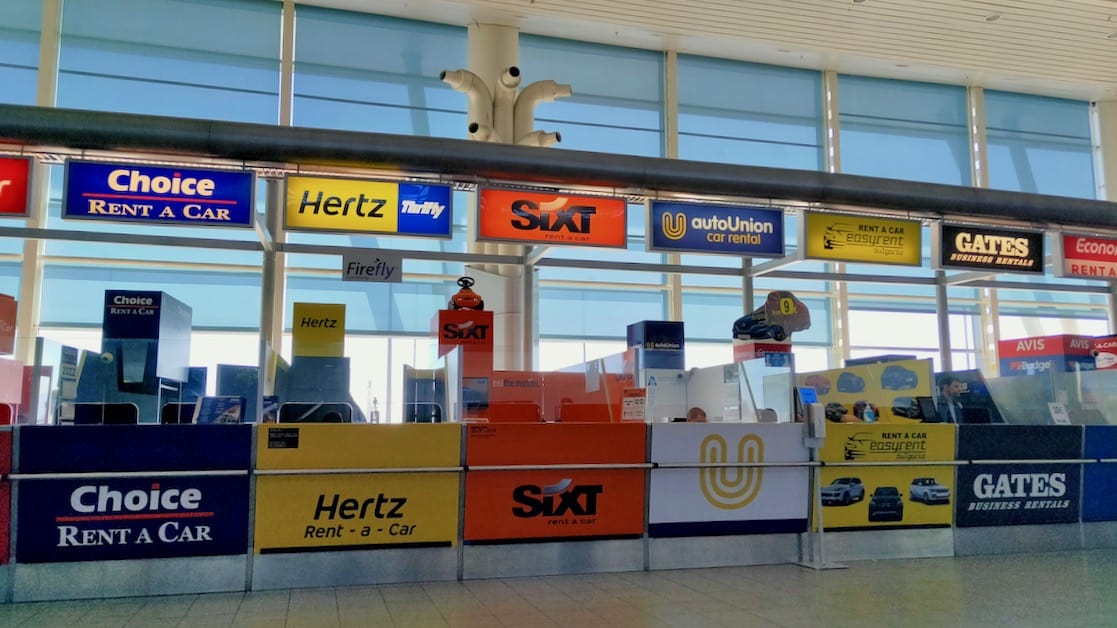 Car rental in Bulgaria is cheap starting at around €30 per day, but insurance and fees quickly stack up making this the most expensive way to travel from Sofia to Bansko.
One problem with driving from Sofia to Bansko is that no major operators that rent cars in Sofia have an office in Bansko. This means you will need to pay for a 'delivery' or 'one-way-rental fee' which is usually hundreds of euros. Alternatively, you can keep a car for your entire trip, which is again expensive and can be pointless in the walkable town of Bansko.
A second problem is that driving in Bulgaria, especially in the snow, can be more dangerous than at home. Parking can also be problematic in the town.
On the upside, a car will allow you to drive up to the ski center and avoid the gondola queues. Parking on the mountain costs €6 per day and spots are limited. You can also explore some of the attractions outside Bansko at your leisure in your own car.
bansko Airport Transfer FAQs
Still got questions about Sofia to Bansko transfers? Check out some of the most common questions when it comes to getting to or from Bansko.
How to Get from Sofia to Bansko?
The best way to get to Bansko from Sofia is via a pre-arranged transfer service. Transfers are safe, reliable, and comfortable. The prices are fixed, and they can be quite affordable with transfers as cheap as €11. Make sure you are dealing with a reputable transfer company such as Traventuria Transfers. It is also possible to reach Bansko by bus or taxi from Sofia.
How Long is the Transfer from Sofia Airport to Bansko?
Bansko airport transfer time is around two hours and fifteen minutes. Bansko is 160km from the Sofia airport.
How Much is a Taxi from Sofia to Bansko?
A taxi ride between Sofia and Bansko costs upward of €80.
O.K. Supertrans costs an initial charge of €1, €0.55 per kilometer, and a wait rate of €0.15 per minute.
What is the Nearest Airport to Bansko?
Sofia is the closest airport to Bansko in terms of time at two hours and seven minutes.
There are two major airports, Sofia and Plovdiv, less than 200 kilometers away from Bankso. The Sofia airport is Bulgaria's main international airport and has regular direct flights from most major European cities as well as Russia and the Middle East.
From the Plovdiv airport, it takes three and a half hours to reach Bansko. The drive from Plovdiv is more scenic but also windier. Plovdiv also has very few direct international flights.
How to Get from Sofia to Sofia Airport?
If you decide to spend some time in Sofia during your trip to Bansko (and you should) you might need to travel between Sofia and the airport. Fortunately, it's very easy. The Sofia metro costs just 1.60 Lev or €0.80 and runs directly from the city center in under 20 minutes.
It is also possible to arrange a pick-up from another address in Sofia such as the bus station or hotel. Contact Traventuria directly to enquire.
How to Get Around Bansko?
Bansko is very walkable. The gondola station is at the southern end of town where you'll find most of the accommodations, restaurants, ski shops, and grocery stores. As you get further away from the gondola, you'll find some great traditional Bulgarian taverns known as mehanas, which offer traditional fare at lower prices.
The gondola operates daily taking people up onto the ski slopes. The queue for the gondola gets very long in peak times so you may wish to take a taxi or shuttle bus up to the top gondola station.
If you would like to visit attractions outside of Bansko like the nearby towns or hot springs, you may need to arrange a taxi or transfer.
How to Catch a Bansko Taxi?
There are taxis in Bansko.
Bansko's taxi service is called Taxi Bansko. You can book a taxi by calling 088 600 8505, asking your accommodation or restaurant to book for you, or by visiting their Facebook page.
Taxis in Bansko are quite expensive, see below for prices.
How Much Does a Taxi Cost in Bansko?
Taxis in Bansko are quite expensive.
During the day between 6 am and 10 pm, the initial fee is €2, the price per km is €1, and the waiting rate €0.50 after 10 pm the initial fee and rates all increase by €0.50.
This means a quick trip to the nearby town of Razlog, 10 minutes away, costs at least €10 each way.
What's more, there have been instances of drivers taking the scenic route or forgetting to turn on the meter in order to overcharge tourists. Always confirm the price, check the meter is on, and know your route.
For peace of mind, you can organize a transfer to nearby locations like Razlog, Dobrinishte for an upfront cost through transfer services like Traventuria.
Is There Lyft or Uber in Bansko or Sofia?
No, neither Sofia nor Bansko have Uber, Lyft, or other app-based ride-sharing services at the moment. In fact, you won't find ride-sharing apps anywhere in Bulgaria.
Within Sofia, there is great public transport and taxis are cheap. If using taxis just make sure to use O.K. Supertrans Taxi. You can also use apps like Yellow Taxi or TaxiMe to book cabs online, similar to Uber.
In Bansko, you can walk to most places in the town or take a local taxi. If traveling to attractions outside of Bansko, you can take a local taxi or arrange a transfer.
*
*
Hopefully, you found this guide on how to get to Bansko, Bulgaria useful. If you have any questions, or a comment please let us know below!
*
Want to save this Sofia to Bansko travel guide for later? Pin it!