Is There Uber in Corfu Greece? A Guide To Getting Around
Please note that some links on our site are affiliate links. If you choose to purchase through these links, we may receive a small commission at no extra cost to you. By using these you are directly supporting The Vanabond Tales to remain an independent travel blog.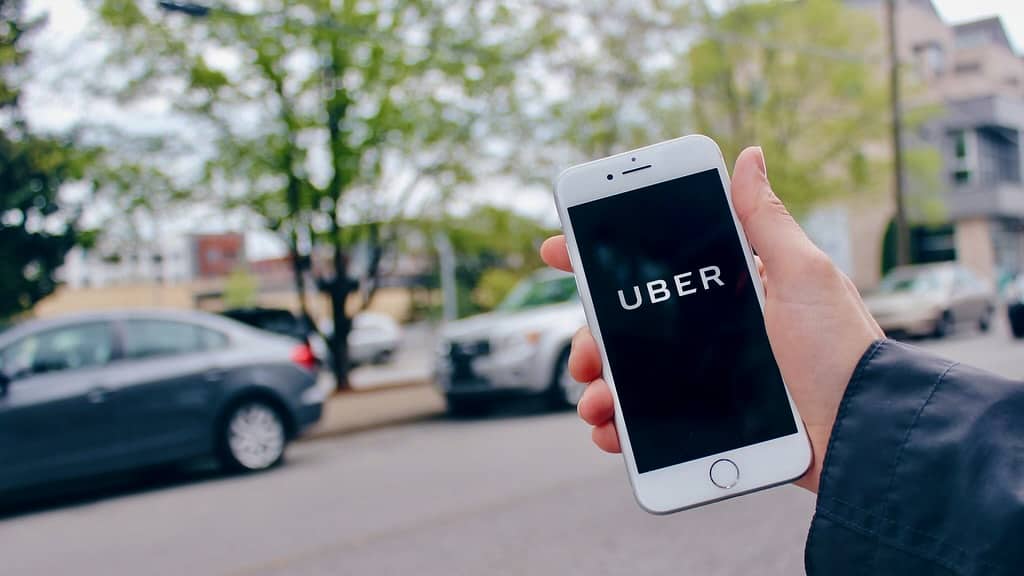 Are there Rideshare Apps like Lyft and Uber in Corfu?
If you are planning a trip to the most popular island in the Ionian Sea you may be wondering how to get around Corfu, and the obvious question arises, "is there Uber in Corfu, Greece?"
The short and easy answer is, no. You won't find rideshare apps like Lyft or Uber in Corfu.
That's a shame because Uber is a helpful solution when traveling abroad, especially to a country where you don't speak the native language, or have experience with local taxis (an industry notorious for taking advantage of unsuspecting travelers). Without the in-built consumer protection of a ride-share app like Uber, it is always a good idea to be forewarned about the taxi and transport options in a new destination.
So, why won't you find Uber here and what are your alternative transport options for navigating the vast and dispersed island of Corfu? Find out in our full guide to transport, transfers, and taxis in Corfu, Greece.
Why Isn't Uber in Corfu Greece?
Although Uber initially did attempt to launch into the Greek market, the company met fierce resistance from the established taxi industry, and in 2018 Uber removed their traditional Uber X service which connected customers with private drivers. They replaced the service with Uber Taxi, which connected customers with professional taxi services using the Uber platform. Currently, however, Uber Taxi only operates in Athens, Thessaloniki, and Santorini. It is unknown if and when Uber plans to offer this service in Corfu.
How to Get Around Corfu Without a Car
Even though Uber isn't on Corfu, there are plenty of other options for getting around without renting your own car.
Whether you're looking for luxury door-to-door transport, shared shuttle transport, or a public bus there are Corfu transport options to suit any budget or travel style.
Using public and private transport here, however, is a little different from major cities and mainland tourist destinations. With the huge surge of tourists that flock to the island from around Europe and from around the world each year, all forms of transport come under huge pressure in the summer months. For this reason, when you need to be somewhere at a specific time (i.e., a flight or a ferry) it is recommended to plan and make any necessary arrangements well in advance PLUS have a plan B and even a plan C.
Corfu Bus
If you're planning on traveling around Corfu without a car you may be pleased to know there is a great bus network servicing the whole island.
The Corfu City Bus has regular services around the Corfu old town, Dasia/Ipsos (No. 7), Pontikonisi (No. 2), Benitses (No. 6), Achillon (No. 10), Kouramades (No. 5), Kanalia/Kompitsi (No. 14), Pelekas (No. 11), Aqua Land (No 8), the Corfu Airport and Port (No. 15), and a few other smaller routes.
The Corfu Green Buses runs throughout the whole island and has regular services from early morning until late at night. Many of their routes are serviced by air-conditioned, coach-style buses. The Corfu Green Bus reaches destinations such as Paleokastritsa, Kassiopi, Messonghi Beach, and many other popular towns and villages throughout the island.
The main upside of the buses is that they are extremely affordable, especially when compared to a Corfu taxi which usually costs around fifty times the price. They also run on a fixed schedule and therefore can be a tentative plan A or used as a backup transport option (be aware buses can run late or become full in busy periods).
The downside of traveling by bus is that the journey can be more uncomfortable, especially during peak times. In the case of the City Bus, passengers may be required to stand.
Given the unpredictable traffic in the city and narrow windy roads on the rest of the island, buses sometimes run late. Additionally, buses are generally slower than other forms of transport and the bus timetable may not line up with your schedule, especially if traveling to smaller villages with less frequent services. In really busy times buses may also fill up, meaning, you will be waiting for the next scheduled bus.
Corfu Bus Timetable
City and Green Buses are scheduled from early morning to late at night.
You can find the Corfu City bus timetable on their website.
You can find the island-wide Corfu Green Buse timetable on their website.
Corfu Bus Stations
The intercity Corfu Green Bus station can be found at Eptanisou Avenue. You can buy tickets, store luggage, and all routes connect through this stop.
The Corfu City bus central station can be found at Georgiou Theotoki Square (Saroko Square). There is a ticket and information kiosk here.
Corfu Bus Tickets
You can purchase tickets from the main bus stations, from automatic ticket machines located near bus stops, or on board. Tickets purchased onboard are subject to additional tax.
Depending on your final destination, tickets cost between €1 – €4.
Port of Corfu and Corfu Airport Bus
Whether you are traveling to Corfu by land or sea you can easily connect to the Corfu City line or the inter-city Corfu Green line.
The no. 15 Bus runs 7 days a week between 7:00 am and 12:00 am. It runs between the airport and the port, stopping at both the City Bus central station and the intercity Green bus main station.
Taxis in Corfu
One of the most convenient options to get around for solo travelers, couples or small groups are the traditional taxis that operate in Corfu.
There are a number of taxi companies operating in Corfu and lots of independent taxi drivers.
However, Corfu, like other seasonal tourist destinations, can become quickly overwhelmed in the busy season. To put it in perspective, Corfu has only 25,000 permanent residents and receives millions of tourists during summer. For this reason, many taxis only operate during the busy season and do something else in the off-season.
Despite the extra drivers, in the peak season (between July and August) taxi services come under extreme pressure, and calling a taxi and expecting an immediate pick-up, or being able to hail a cab on the street is not a sure strategy.
Consequently, if you need a taxi for a specific time, it is recommended to book in advance for an agreed pickup time.
It is generally best to make an arrangement directly with an independent taxi driver. If that's not possible or practical, check with your hotel if they have a contact for a reliable driver.
If you can't get in touch with a driver directly, the next best course of action is to call the taxi radio in advance and pre-arrange pick-up.
In Corfu Old Town there are taxi cab ranks, and, outside peak times, you can usually catch a taxi here without needing to wait too long. Otherwise, be prepared to queue and at times, experience a long wait. You may need to be proactive in protecting your place in the queue as it can get hotly contested!
In other tourist villages on the island, there are taxi stands, but it is luck of the draw whether an available taxi happens upon you.
Finally, flagging down a taxi is an option but outside of Corfu town, again, it is hit and miss whether you will find a vacant, on-the-clock cab.
Like other places, the taxi drivers here are a mixed bag. We met friendly, honest drivers who were polite and helpful and who quoted fair prices. And we came across less friendly drivers, who quoted inflated prices.
If you come across a good taxi driver, it's worth grabbing a card or phone number or asking for recommendations from your accommodation.
If you run into scams, or inappropriate or aggressive behavior from taxi drivers you can (and should) report them to the local Tourist Police by calling +30 26610 29168.
How Much Does a Taxi Cost in Corfu?
Licensed Corfu taxies have regulated tariffs.
Base fare – €3.60 | Rate per km – €1.10
These rates must be displayed on a tariff card in the front of cabs and drivers are legally required to use a meter when asked.
However, in practice taxi drivers in Corfu will generally offer a flat fee based on the destination, the time of day, and the driver. In busy times this flat fare is generally non-negotiable though you may be able to knock €5 or €10 off the fee if it is outside peak time and the original quote is heavily inflated.
Flat fees offered by drivers in Corfu generally range between €15 and €25 per 15 minutes of driving.
What's the Phone Number for Corfu Taxis?
Most taxis in Corfu are independent operators, and the best way to get a ride is to pre-book directly with the driver. Many drivers have their days booked out well in advance, so wherever possible, book ahead.
If you can't organise a ride directly with a driver try the 24/7 Corfu Radio Taxi. However as mentioned, during peak times in the high season, it is very possible that no cabs will be available immediately. +30 2661 033 811.
These are some of the independent cab companies that have good reputations as friendly, reliable professional drivers.
Corfu Taxi Team
Well-regarded taxi services with a reputation for reliable and friendly service.
+30 693 484 3704 (WhatsApp, Viber or Phone)
Corfu Taxi-Cab Services
Another independent taxi service committed to providing high-quality cab services in Corfu.
+30 690 988 8369 (WhatsApp or Phone)
The British Taxi Driver in Corfu
Operating out of Dassia, Nicholas has a reputation as a friendly, safe, and reliable driver.
+30 694 654 7800 (WhatsApp or Phone)
Taxi Corfu SGS Yiannis Kavvadias
Operating in the south of Agios Georgios, this cab is very popular.
+30 697 269 3459
Taxi Nicos
Another highly recommended taxi in south Corfu.
+30 6972 88 88 24 / taxinicos @ gmail.com
Corfu Private Transfer
For larger groups organizing a private transfer in a minibus can be a comfortable, reliable, and economical way to get around. Most transfer companies provide transport services between any number of points on the island, and some offer custom tours.
You can pre-book mini-vans for private transfers for between 1 – 12 or add more vehicles to cater to even larger groups.
There are lots of transfer companies on the island. One of the most highly-rated operators is Vanakee.
Corfu Airport Shuttle Transfer
Corfu airport shuttle transfers offer a shared, direct transfer from hotels, or a pickup location near your hotel (if it's unreachable by bus).
While there are lots of third-party 'Airport Transfer' companies online that advertise shared shuttle transport options in Corfu, these are generally unaffiliated websites, selling tickets to local shuttle operators. The downside of booking through a third party is that you will pay more (around 20% – 30%). More importantly, you may not get the correct, up-to-date information about your transfer directly from the ticket seller.
Ideally, you should deal directly with a Corfu shuttle transfer provider directly to receive the best price and information. If you do book through a 3rd party, make sure you get the phone number of the service provider and call directly to confirm the pick-up time and pick-up location.
Corfu Airport Shuttles cost about €10 – €25 depending on the provider and pick-up/drop-off location.
Our personal experience with a Corfu airport shuttle was terrible, and we would recommend arranging a taxi or using the bus network.
CorfU By Car: Private Vehicle and Car Hire Corfu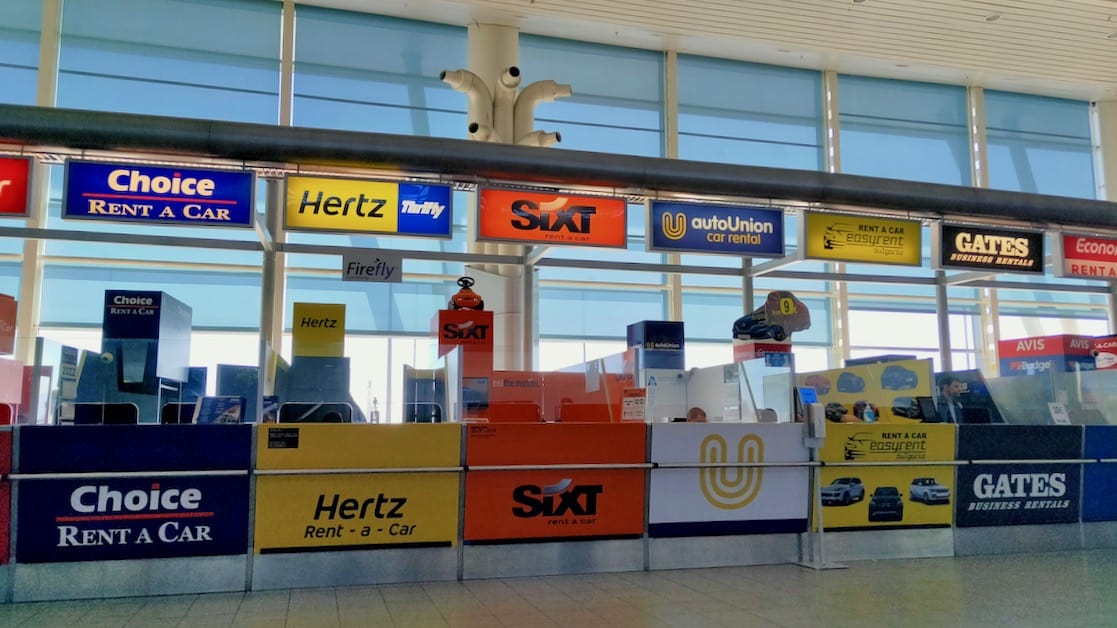 Is It Worth Hiring a Car in Corfu?
Yes!
Renting your own car in Corfu is a great option as it allows you more freedom to go where you want, and the flexibility to go when you want. Additionally, if you are planning on traveling to different parts of the island it is much more economical than taking taxis, and more convenient than the bus.
One downside to renting a car on Corfu is that the roads on the island are narrow, winding, and get very busy during the summer. Moreover, the island is also very steep in places, and parking places are limited. All up, Corfu can be a challenging place to drive and can a bit of stress to your trip.
If you do decide to rent a car, there are plenty of car rental agencies in Corfu. Many are highly rated and recommended. In general, the independent, family-run business here seems to offer the best service and value.
Motorbike, Quad Bike, and Scooter Rental in Corfu
If you are traveling solo or as a couple, renting a scooter, motorbike or quad can be an economical and flexible option for transport on Corfu.
Scooters offer an economical way to see 'on-road' attractions. Motorbikes can offer more power to reach steeper areas of the island but are charged at a premium. If you're thinking about getting off the beaten path in Corfu, you may want to consider renting a quad bike. These heavy-duty all terrain bikes will be able to take you to some of the coolest lookouts and steepest beaches on Corfu island.
Again, there are lots of rental services across the island, many of which have really good reviews and reputations, check online or ask your accommodation for local recommendations.
As with a rental car, renting a scooter will mean you will need the navigate the mountainous and winding roads of Corfu. However, bikes and scooters won't have the same level of protection and safety as a car. On the upside, they will be easier to park.
Be sure to check the license requirements for the type and size of any bike or scooter you would like to rent before you arrive!
Scooter, Motorbike, and Quad Bike Rental Prices in Corfu
Scooter rental prices start at around €20 per day for older, smaller (50cc) models up to about €60 per day for new models with more power.
Quad bike daily rental generally runs between €30 and €60.
Motorbikes generally run between €50 – €100 per day.
Other FAQs About Transport in Corfu
How to Catch the Airport Bus from Corfu Airport to Corfu
Take the number 15 to connect with the central City Bus station, inter-city Green bus depot, or Corfu ferry terminal.
Does Corfu Airport Have WiFi?
Yes! Corfu Airport has Wifi. Great news if you need to bring up your hotel address or directions.
Is There Uber Eats in Corfu?
No, Uber Eats does not operate in Corfu. There is a local equivalent app E-Food and many restaurants have their own delivery service.
*
Hopefully, you have found this information on taxis and Uber in Corfu. If you have a question or a comment, please let us know below!
Want to save this Guide To Getting Around Corfu? Pin it!