Is There Uber in Bulgaria? A Guide to Uber, Lyft, Rideshare Apps, and Taxis in Bulgaria
Please note that some links on our site are affiliate links. If you choose to purchase through these links, we may receive a small commission at no extra cost to you. By using these you are directly supporting The Vanabond Tales to remain an independent travel blog.
When traveling to Bulgaria for the first time, one of the first questions you might have is, "Is there Uber in Bulgaria?"
After all, Uber has been a godsend to travelers visiting a foreign country where they do not speak the language, let alone understand taxi prices, protocol, culture, safetey, or etiquette.
Before Uber, travelers had to be very cautious about potential scams waiting for them outside arrival halls. Unscrupulous cab drivers have unfortunately developed a reputation for employing underhanded tactics to separate unwary travelers from their newly acquired foreign currency.
Uber, and other ridesharing apps like Lyft, removed the need for learning taxi prices, currency exchange rates, and how to catch a cab, all before setting foot in a new country.
However, not everyone has been excited about Uber setting up shop. Taxi companies and unions, in particular, see Uber as a direct threat to their business model and have strongly opposed Uber and other ridesharing apps in cities and countries around the world. Today, there are many countries where Uber has been forced out of the market.
So… is there Uber in Bulgaria? What about other ridesharing apps like Lyft in Bulgaria? Does Uber work in Sofia, Bulgaria's capital? What other taxi apps are available? And, if I can't use Uber, how the heck can I get around? Read on to find out!
Is There Uber in Bulgaria?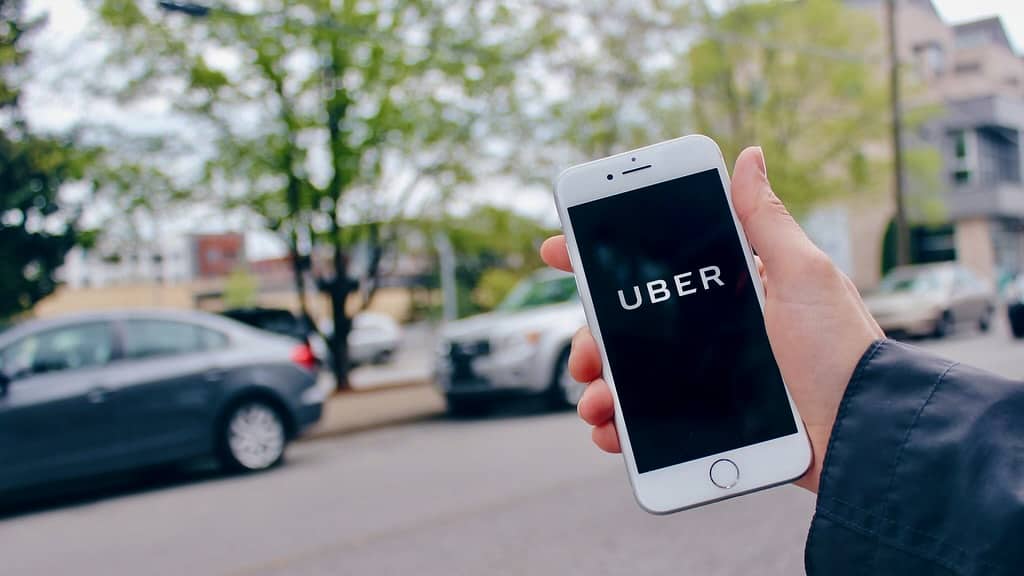 No, Uber does not operate anywhere in Bulgaria. Although the company briefly operated in Bulgaria between 2014 and 2015, fierce resistance from taxi unions led to a government inquiry which in turn led to a ban on Uber, a ban which was upheld by the Supreme Court.
Are There Other Ridesharing Apps Like Lyft in Bulgaria?
No, you won't find Lyft or any other official ridesharing apps in Bulgaria.
Is There Uber in Sofia Bulgaria?
No, Uber is banned in Bulgaria nationwide. Even in the busy Bulgarian capital of Sofia, you won't find Uber, Lyft, or any other ridesharing apps.
Is There a Bulgarian Uber?
No, at this stage there is no local equivalent of Uber operating in Bulgaria. Strong opposition to Uber from taxi unions has shut down any hopes of launching new rideshare apps, at least for now.
Why Was Uber Banned in Bulgaria?
Uber's launch in late 2014, while popular with drivers and consumers, was met by staunch opposition from Bulgarian taxi unions. They lobbied and threatened to protest over the negative effects of Uber undercutting the services of existing legitimate taxi companies.
In response, a joint inquiry was launched by a collection of government agencies and ministries. As a result of the inquiry, the government announced that Uber would be banned in Bulgaria. Subsequently, Bulgaria's Supreme Administrative Court upheld the ban. Uber ceased operating in Bulgaria toward the end of 2015.
Uber continues to explore avenues for re-instating its business in Bulgaria. Some polls have suggested that the majority of Bulgarians support the idea of ridesharing apps like Uber in Bulgaria.
You can read more about the history of Uber in Bulgaria at Eurofound.
Taxis in Bulgaria
Ok, so Uber and Lyft are out. But you still need to get around. Thankfully, taxis are cheap and plentiful throughout most cities and towns in Bulgaria.
Here is what you need to know about taxis in Bulgaria.
Are Taxis Cheap in Bulgaria?
Yes, taxis in Bulgaria are extremely cheap when compared to taxis prices in the rest of Europe and around the world. In some tourist destinations in Bulgaria, taxi prices may be higher than in large cities and regional areas, but overall you can expect to find affordable private transport throughout the country.
How Much Are Taxis in Bulgaria?
Taxis in Bulgaria work much the same way as the rest of the world charging a one-off 'use fee' and incremental charges that increase with distance traveled and time spent stopped or waiting.
Throughout Bulgarian towns and cities, taxis typically charged a starting use fee of between 1лв and 2лв or €0.5 – €1.
The fare will increase by about 1лв or €0.5 for every kilometer traveled and by 0.15лв – 0.30лв or €0.07 – €0.15 per minute spent waiting or stopped.
To put this in perspective, in normal traffic, to travel 10 kilometers between the Sofia airport and Sofia city center should take around 20 minutes and cost between 10лв and 20лв or €5 and €10.
Fares increase 'after hours' often defined as between 10:00 pm and 6:00 am. Between these times or on holidays, you might expect to pay 20% more.
In tourist areas, such as ski and beach holiday destinations such as Sunny Beach or Bansko, taxi rates can be between 50% and 100% higher.
Do Taxis Accept Credit Card in Bulgaria?
More and more!
Traditionally taxis in Bulgaria have not accepted credit cards, but that is slowly changing. Many taxis, especially those that are part of the larger and more reliable taxi company fleets, are now using POS terminals that can take credit card payments. Additionally, many taxi companies that use or work with taxi app services have the facility to pre-pay for rides online.
So, if you need to pay for your taxi with a credit card, you can pre-book and prepay using an app, request a taxi with credit card facilities when you book over the phone or ask taxi drivers on the street whether they accept credit cards.
How Do I Call a Taxi in Bulgaria?
There aren't any national taxi services in Bulgaria. In larger cities and towns, it will be easy to find the number and often a website for the local taxi service. In smaller villages or regional areas, you may need to ask your accommodation or a local how to get in touch with the local taxi service.
How Do I Call a Taxi in Sofia?
In Sofia, there are a number of taxi companies and independent taxi drivers.
OK SuperTrans and Yellow Taxi are two of the largest and most reputable cab companies in Sofia, Bulgaria.
Are There Taxi Apps in Bulgaria?
Yes! Although there are no smartphone-based ridesharing services in Bulgaria, there are apps that you can use to connect with existing cab companies.
TaxiMe and Taxi Maxim are two services that work with existing licensed cab drivers and provide some of the functionality of rideshare apps in Bulgaria.
Are Taxis Safe in Bulgaria?
Yes, taxis are generally considered safe in Bulgaria. The chances of being a victim of serious crime in a Bulgarian taxi are very low. What's more, the taxi industry is heavily regulated to ensure fair and transparent practices are enforced and rogue operators are weeded out.
Even though cabs are regulated and catching a taxi in Bulgaria is considered safe, there have been instances of passengers, and especially foreign passengers, being ripped off when using taxis in Bulgaria. Often this happens in cabs operating 'off the clock' who are driving around waiting for someone to wave them down.
Travelers should ideally book cabs ahead of time and be careful to use the major reputable companies operating in the area they are planning on traveling. By traveling with a reputable cab company in Bulgaria, the chance of being scammed or ripped off is lowered considerably. This information is easy to find online when it comes to major cities however in regional areas, you may need to ask someone such as your accommodation, or conduct further research.
No matter what taxi company you are using, be sure to be aware of potential taxi scams in Bulgaria.
How to Avoid Taxi Scams in Bulgaria
It is easy to avoid being taken for a ride in Bulgaria if you know what the common scams are and how to avoid them.
Here are the top ways to avoid being ripped off when catching a taxi in Bulgaria.
Book Ahead
Use an app to book and, if you like, to pay ahead. On the app, you can also make special requests such as an English-speaking driver or a taxi with credit card facilities. Alternatively, call ahead to book your ride (or have someone book it for you). This way you ensure you are not dealing with a rogue driver working 'off the clock'.
Use a Reputable Taxi Company
There are a number of reputable taxi companies operating throughout Bulgaria that have built businesses through trust and reliability.
These companies use standardized and transparent pricing and are more likely to provide services like booking apps, online payments, and credit card facilities. Moreover, if you travel with a reputable company you are less likely to be scammed. However, even with reputable companies, scams and underhanded tactics do still happen, so be aware and vigilant, even when you are riding with a trusted taxi.
Conversely, there are a number less than reputable companies as well as private operators running cab services in Bulgaria. Some of these taxis specifically target foreigners who don't know the usual costs or customs when it comes to using cabs in Bulgaria.
Copy Cat Taxis
One common scam, especially in larger cities like Sofia, is that many cabs are designed to look like they are associated with large and reputable cab companies. These copycat cabs hope to profit from the recognizable branding of their competitors but may not have the same fares or the same level of service. It is also possible these companies have higher instances of rogue drivers.
If you are hailing a cab on the streets, make sure you know what you are looking for when trying to find the more well-known companies.
No Card Machine
While it might not be a scam per se, it can be frustrating, inconvenient, and even expensive, if your cab driver tells you they don't have a credit card facility when they do. Especially if you don't have cash because you are arriving or leaving the country.
While many cabs don't have credit card facilities, many of the newer ones, operating as part of the larger networks do.
Many of the Ok Supertrans Cabs operating at the Sofia airport for example do have credit card facilities available. However, most will tell you when you ask that their machine is down. If you explain that you don't have cash, they will tell you it's ok, they will stop at an ATM. If you explain, that actually you don't want to stop at an ATM and that you need to use a card so you will ask the next cab in line, the driver may remember, that actually, the credit card machine is working perfectly.
The Scenic Route
Another tax scam in Bulgaria (and the world over) is to take advantage of travelers' unfamiliarity in a new area by taking an unnecessarily long route to reach a destination. Of course, this particular scam is nothing new and is relatively easy to avoid if you are aware and use a modern smartphone with location services. Track your progress on a mapping app (many work offline) to make sure your driver isn't taking the long way around.
No Taxi Meter
All registered taxis in Bulgaria use taxi meters. However, some drivers will 'forget' to turn the taximeter on at the beginning of the journey. When you arrive at your destination the driver will make up an amount that will be far in excess of the amount a metered ride would be. Another thing to watch for is a meter that is on at the start of the journey but is turned off during the ride. Keep an eye on the meter and make sure it is operating for the entirety of the journey.
Rigged Taxi Meters
Taxis are competitively priced in Bulgaria and you shouldn't be paying much more than the prices discussed above. Part of the regulations that apply to registered taxis, includes taxis displaying their rates outside of the cab on stickers. Always confirm that the advertised rates are in line with the rates listed above.
Once in the cab, keep an eye on the meter and make sure the fare is increasing in line with the expected rate.
Other FAQs About Transport in Bulgaria
How to Travel Between Cities in Bulgaria
For longer journeys within Bulgaria, using the bus network, private transfers, or car rental is recommended.
An intercity bus network connects Sofia and other major hubs in Bulgaria. The bus is the cheapest way to travel around Bulgaria.
Private transfers are also available and reputable companies provide comfortable vehicles and competent drivers to suit any sized group. We recommend TransferBulgaria for all of your private transportation needs.
Finally, there are plenty of car rental services available in Bulgaria. Car rental in Bulgaria is cheap starting at around €30 per day, but insurance and fees quickly stack up making it one of the more expensive ways to travel. Driving conditions can also be different from what you are used to.
How Do I Get from Sofia Airport to the City Center?
How Do I Catch a Taxi From Sofia Airport?
You can easily and cheaply take a cab from the airport to Sofia city center.
Although it depends on exactly where in the city you are headed, the journey is around 10 kilometers, takes 20 minutes, and costs between 10лв and 20лв or €5 and €10.
You don't need to pre-book a cab at Sofia airport as there is a cab rank just outside the arrivals hall. Only Ok Supertrans cabs, Sofia's most reliable cab network is allowed to operate in the airport. There is also an Ok Supertrans office inside the arrivals hall where they can help you organize a cab.
If you want to pre-book a taxi, you can do so three days before your arrival here.
How to Catch the Metro from Sofia Airport to Sofia
It is easy to take the metro from Sofia Airport to Sofia (or vice versa). The metro station is located right next to the airport. The Sofia metro costs just 1.60 Lev or €0.80 and runs between 5:00 am and 12:00 am. The M4 line runs directly from the airport to the city center in under 30 minutes.
Does Sofia Airport Have WiFi?
Yes! Sofia Airport has Wifi. Great news if you need to bring up your hotel address or directions.
Is There Uber Eats in Bulgaria?
No, Uber Eats does not operate in Bulgaria.
In Sofia and other major cities, there are a number of companies such as Glovo, offering app-based food delivery services however, the menus are often exclusively in Bulgarian. Many restaurants offer delivery services and some have websites in English, or will speak English if you are able to call.
*
Hopefully, you have found this information on taxis and Uber in Bulgaria helpful. If you have a question or a comment, please let us know below!
Want to save this guide to Uber, Lyft, rideshare apps, and taxis in Bulgaria for later? Pin it!